Apple updated its investor relations page today to note that it will announce its earnings for the fourth fiscal quarter (third calendar quarter) of 2015 on Tuesday, October 27. The quarterly earnings statement will be released sometime 1:30 PM Pacific/4:30 PM Eastern, with a conference call to discuss the report taking place at 2:00 PM Pacific/5:00 PM Eastern.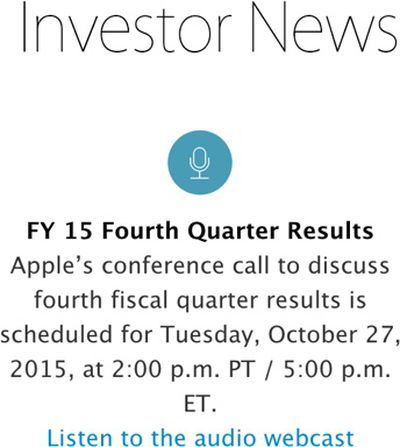 The earnings report will provide a look at early iPhone 6s and iPhone 6s Plus sales. Apple this morning announced launch weekend sales of 13 million for the two devices, outpacing iPhone 6 and 6 Plus sales during launch weekend in 2014.
For the third quarter of 2015, Apple reported earnings of $10.7 billion on $49.6 billion revenue, selling 47.5 million iPhones, 10.9 million iPads, and 4.8 million Macs. Apple's guidance for the fourth quarter includes expected revenue of $49 to $51 billion and gross margin between 38.5 and 39.5 percent.
MacRumors will provide coverage of both the earnings report and conference call on October 27.