iPhone Upgrade Program Causing Headaches for Some Launch Day Customers
Apple launched its iPhone Upgrade Program today in the U.S., enabling customers to purchase the iPhone 6s or iPhone 6s Plus with AppleCare+ coverage included for 24 equal payments of between around $30 and $45 per month depending on the model. After at least 12 monthly payments, the customer can upgrade to a new iPhone and restart the 24-month payment cycle.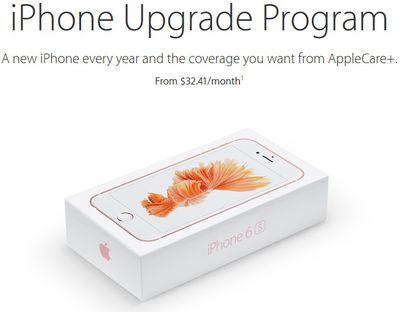 Apple stipulates that the iPhone Upgrade Program is available to qualified customers only with a valid U.S. personal credit card, since the program is based on a 24-month installment loan with a 0% APR from Citizens Bank. For customers with good credit, most did not expect this requirement to be an issue. But, as launch day unfolds, some customers have had frustrating experiences.
MacRumors user onujpt writes that he was declined from the program, despite having good credit and an Apple Barclaycard with a $4,000 available balance, in the iPhone Upgrade Program Experience Thread in our discussion forums. Many other users shared similar experiences in the thread.
Signed up for a reservation. Got there. Front of the line quickly. Got the phone and began the checkout process and notified them I wanted to do the iPhone Upgrade Program.

I have a 724 credit score, a Barclaycard through Apple, and a $4,000 available balance on that card with a combined household income of over $80,000.

I was declined. At first everyone was getting declined. Then some started to work. Mine didn't. They attempted 3 or 4 times with absolutely no luck.

It immediately added a hard inquiry to my credit score. Although we attempted four times, for now it appears that it only hit my credit score once.

I'm beyond upset and will anxiously be awaiting my letter from the bank to find out why I was declined. I personally believe it was a system communication error. And that maybe I was approved but the system just didn't show it. I'm tempted to go back and try again tomorrow just to see if it was a launch-day-8-am issue or not.
MacRumors user inkyoto echoed similar frustration in his thread Nightmarish Experience With Apple Upgrade Program in our discussion forums, noting that he was denied approval for the iPhone Upgrade Program with both Chase and Bank of America credit cards despite having "flawless credit."
Chase call #1 — Chase said they didn't even receive an authorization for the purchase, but put on a high spending note anyway. Tried it again, no dice - same error message.

Trying another card — Okay, trying another credit card, this time from Bank of America. Went through the entire process again. Same error message.

Chase call #2 — This rep has no idea what is going on and is confused about why I'm financing a purchase on my credit card. Tells me to contact Citizens One (the bank financing the iPhone upgrade program) because the error isn't on their side – they aren't even seeing an authorization.

Citizens One — Rep says I have 3 tries per card before I have to wait 30 days. Says that their financing limit is $4000 so as long as I'm under that, and my credit can accommodate the next 3 months of payments, it should go through. Tells me to contact Apple. Gives me a phone number for Apple Financing that goes to "not in service". Nice.

Trying again — Decided to give it another shot with my Bank of America card so we could get another look at the error message. This time it changed. Now it says "Customer ineligible for Apple Offers."

Apple — Enter the twilight zone. Apple rep has no idea what is going on. When I ask to be transferred to whoever is responsible for Apple financing, they say it's the person in the store. Oh yeah, brilliant! I ask again to be transferred and they say they don't have anyone to transfer me to and that I need to contact Citizens One about why it's not going through.
It is possible that iPhone Upgrade Program approvals have been experiencing problems due to the high volume of traffic today in Apple Stores, but in the meantime some customers with good credit may be forced to pay upfront or walk away empty handed. Alternatively, some customers may opt for a carrier financing plan from AT&T, Verizon, Sprint or T-Mobile.
Enrolling in the iPhone Upgrade Program requires visiting an Apple Store. Apple states you must be at least 18 years old and bring your current iPhone, a valid personal credit card, your personal information and two forms of identification and your carrier information, such as your wireless account password. The full terms and conditions are posted on Apple's website.