New USB-C Batteries to Charge Retina MacBooks at Full Speed
Apple's Retina MacBook uses a brand new USB-C connector for power, which means that it's able to be charged by external USB battery packs much like an iPhone or an iPad. But because of its higher 29 watt power requirements, there aren't any current battery packs that pump out enough power to charge the MacBook at full speed. Instead, most USB battery packs used with the MacBook today just keep the battery steady, without adding additional power. That's set to change, however, as companies are starting to debut accessories and battery packs that will let the Retina MacBook charge at its full 29 watt rate.
As of today, Hyper, known for its line of external battery packs designed for Apple's notebooks, is launching a Indiegogo project for the HyperJuice Magic Box. Available in two varieties, the Magic Box is an adapter that allows the 12-inch Retina MacBook to be charged at a full 29W speed using HyperJuice battery packs, or up to 12W using regular USB battery packs.
The 29W Magic Box adapter cable, which converts the DC output of a HyperJuice battery pack to a USB-C connection, uses a smart IC to enable "fast and safe" 29W charging, refilling the MacBook's battery just as its 29W Power Adapter would. The 12W Magic Box is a USB to USB-C adapter that will let any existing USB battery pack work with the new MacBook, but it won't be as powerful as a HyperJuice battery pack paired with the 29W adapter.
If you need faster charging at the same 29W speed as the original Apple USB-C Power Adapter, use Magic Box 29W adapter together with HyperJuice batteries. Only HyperJuice can safely and efficiently provide up to 29W (or even 100W) power via USB-C. This is something that regular USB battery packs cannot do.
The 29W Magic Box will be available for $35 while the 12W version is available for $25. Both can be ordered through Hyper's Indiegogo page, which also includes other purchasing options for Magic Box and external battery back combos at discounted prices, plus options that will make HyperJuice battery packs compatible with both MagSafe-based Macs and the Retina MacBook.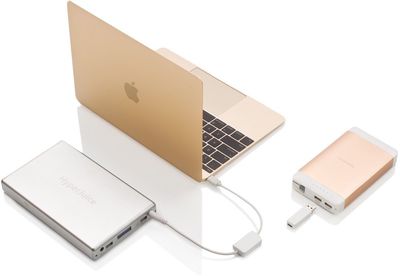 Hyper's existing HyperJuice battery packs can also be ordered from the Hyper website, with prices that range from $169.95 to $449.95. Ranging from 16,000 mAh to 61,000 mAh, the HyperJuice external batteries can add anywhere from 14 to 53 additional hours of battery life to a MacBook.
In the near future, there will also be other USB-C external battery pack options for the MacBook. At the end of this month, Maximas will introduce a crowdfunding campaign for the XTRON, a 13,400 mAh power bank (for 8 hours of extra battery life) designed specifically for USB-C devices like the MacBook.

The XTRON external battery pack, coming soon from Maximas


It includes 4.2A USB charging ports that are compatible with both USB-C and USB-A so it can be used to charge multiple types of devices simultaneously, and though it's 13,400 mAh, it's able to fit in the palm of a hand. It will be available for $69 when the Indiegogo project launches.
Another company previously announced a similar product, the Reach Go battery pack. The Reach Go's original specs claim to have 15,000 mAh, offer two standard USB ports, and a single USB-C port, and cost $99. This battery has also not yet shipped, but the website claims an October, 2015 arrival.
Update 9/30: The Maximas XTRON external battery pack is now available via Indiegogo.