Apple's 'Move to iOS' App Likely Rebranded Version of Existing Android App
Alongside the launch of iOS 9 yesterday, Apple debuted a new Android app called "Move to iOS." The app is designed to help Android users transfer their content from an Android device to an iOS device. According to Phandroid, the app may not be developed by Apple and instead be a rebranded version of an existing app.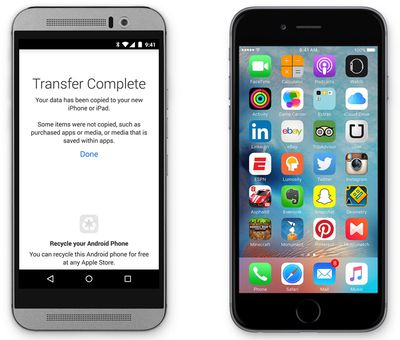 The app in question is Media Mushroom's Copy My Data, one of two Media Mushroom apps that specialize in transferring data between devices. The other app is Device Switch, and both are available in the App Store and Google Play. Phandroid took a look at the code of Move to iOS and noticed that it included references to Media Mushroom's Copy My Data app, like the tag android:name="com.mediamushroom.copymydata".

That's just the tip of the iceberg. The two applications share a vast majority of code and functionality. In fact, all of the com.mediamushroom.copymydata strings were left inside Apple's rebranded version. Essentially, the only differences between the two apps are Apple's artwork being added, the inclusion of Apple's licensing agreements, and Media Mushroom's UI elements being removed. That's really it.
As noted by Phandroid, it's likely Apple licensed the rights to use and rebrand Media Mushroom's app. Move to iOS is Apple's first Android app, and the app has gained numerous negative reviews in the Google Play Store. Of its 15,230 reviews, 12,184 are one-star reviews. Criticisms in the negative reviews include complaints about iOS, Apple, and that the app uses Apple's design philosophy rather than Google's Material Design. Apple's second Android app will be Apple Music.