Developers Now Receiving Apple TV Units for App Testing Purposes
Earlier this week, Apple began allowing developers who won the lottery for an Apple TV Developer Kit to place orders for the devices, and shortly after, Apple began shipping Apple TVs out around the world. As of today, a large number of developers have begun receiving the Apple TVs according to reports on Twitter and images shared with MacRumors.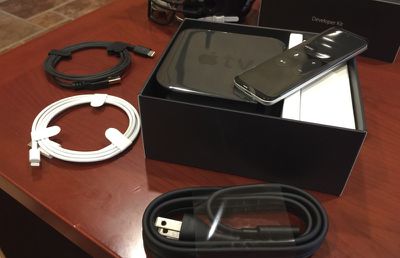 Developers were selected to receive an Apple TV using a lottery process that started shortly after the Apple TV was introduced on September 9, which has now wrapped up. Developers who won were able to obtain Apple TV Developer Kits at no cost, with a $1 fee being charged to verify billing and shipping addresses.
With Apple TVs in the hands of hundreds of developers, we may be able to learn a lot more about the device and how it works ahead of its official late October launch date, and we'll be able to get a closer look at what kind of apps we can expect on it. Last week, there was
an unboxing of the Apple TV
, which gave us a first glimpse at the new set-top box and the touch-based remote out in the wild.
The new Apple TV includes a powerful A8 processor, 2GB RAM, and a new operating system, tvOS, which supports Siri voice control and a full App Store, allowing games and apps to be played on the device.
(Thanks, Tom!)