Apple Allowing Developers Who Won Apple TV Lottery to Place Orders
The new Apple TV won't be available to consumers until the end of October, but some developers are able to get their hands on one of the devices early in order to begin preparing and testing apps for the tvOS App Store.
Following last week's "Hey Siri" media event, Apple gave developers an opportunity to sign up for a lottery for an Apple TV Developer Kit, which ended today. Developers who won the lottery are now receiving invitations allowing them to purchase an Apple TV kit, and the first Apple TVs could be in developer hands by the end of this week.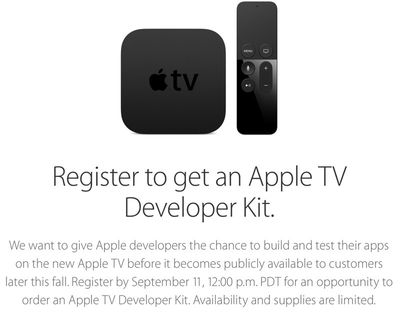 Developers who were selected for the lottery are required to order by Wednesday, September 16, with orders beginning to ship out one to three days after that. Apple is providing Apple TV Developer Kits to developers at no cost, with a $1 fee being charged to verify billing and shipping addresses.
With Apple TVs in the hands of developers in just a few short days, we may learn a lot more about the device ahead of its official October launch date, and we'll almost certainly get a glimpse at what kind of apps we can expect on it. We've already seen an unboxing of the new Apple TV, which gave us a look at the set-top box itself and the new touch-based Siri remote included with it.
Apple's new Apple TV represents a massive overhaul of the existing set-top box, which has been left untouched since 2012. In addition to a much more powerful A8 processor, 2GB RAM, and more storage space, the new Apple TV includes a whole new operating system, tvOS, that supports a full App Store, allowing apps and games to be played on the device for the first time, and Siri, for full voice-control abilities in countries where it is supported.
The Apple TV also has deep search capabilities that will make it possible for users to search for content across multiple apps to find television shows and movies, and its aforementioned touch-based remote doubles as a motion-supported gaming controller for games that will be found within the new App Store.