Apple Pencil Offers High Precision and Low Latency, Gains 30 Minutes of Use From 15-Second Charge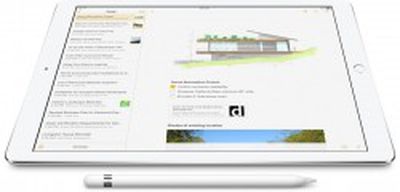 Apple co-founder Steve Jobs famously dismissed the need for a stylus when introducing Multi-Touch on the original iPhone over eight years ago, touting the finger as the best pointing device in the world.
"Who wants a stylus? You have to get them, and put them away, and you lose them. Yuck. Nobody wants a stylus. So let's not use a stylus."
Macworld 2007 was quite awhile ago, however, and Apple on Wednesday ultimately reversed course and introduced the Apple Pencil for iPad Pro, which it refers to as a creative tool for scribbling, sketching, annotating and editing.
Apple Pencil features a pointed tip with highly responsive sensors that allow for precise input down to a single pixel. To achieve this, Apple engineered the Apple Pencil and iPad Pro display to work together to detect position, force and tilt.
For example, as seen in the video below, you can press lightly for a thinner stroke, or press harder for a darker, bolder stroke. Likewise, you can draw with the Apple Pencil on an angle to produce broad, shaded strokes.
The iPad Pro's subsystem scans the Apple Pencil's signal 240 times per second, providing the tablet with twice the data points it would normally collect for a finger. This results in the Apple Pencil being very responsive, with almost indistinguishable latency, as seen in
TechCrunch
's hands-on video below.
Apple Pencil has a built-in rechargeable battery that lasts up to 12 hours on a single charge, but more interesting is its ability to gain 30 minutes of battery life from just 15 seconds of charging. A magnetic cap hides a male Lightning connector that allows the Apple Pencil to be plugged into the iPad Pro to charge.


Apple Pencil will be available in November for $99 alongside the new Smart Keyboard. While the Apple Pencil is officially compatible with the iPad Pro, it remains to be seen if the tool will work with older iPads as a traditional stylus.