3D Touch Brings Trackpad Shortcut to iPhone 6s Keyboard
Apple introduced the iPhone 6s and iPhone 6s Plus with several new features this week, one of the most significant being 3D Touch. The pressure-sensing technology enables iPhone users to perform additional multi-touch gestures called "Peek" and "Pop" to access Quick Action shortcut menus or preview content within apps.
Apple added a
3D Touch
page to its website earlier this week with some examples of what Peek and Pop gestures can be used for, including previewing emails and websites, viewing photos you've taken while taking new ones, quickly accessing your contacts, taking a selfie, quick compose and more.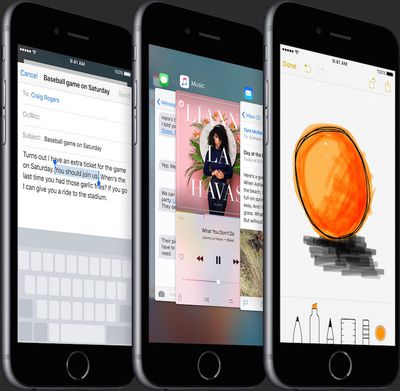 One of the more useful actions that 3D Touch makes possible is pressing the iPhone screen to turn the on-screen keyboard into a virtual trackpad (pictured on left).
One press turns your keyboard into a trackpad.
Press the keyboard within apps such as Notes, Mail, and Messages, and your keyboard behaves just like a trackpad. You can then use a cursor to easily select and manipulate text with precision.
Existing iPads running iOS 9 will also have similar functionality, with users able to control an on-screen cursor by moving two fingers anywhere on the screen, including over the QuickType keyboard, to select, edit and move text.
3D Touch also enables iPhone 6s and 6s Plus users to press the left side of the Home screen to switch to multitasking view, press lightly for finer lines or more deeply for thicker ones in Notes, swipe left to delete an email or swipe right to mark it as unread in Mail and more.