iHome's iSP5 SmartPlug Is Far From Perfect, But It's a Cheap Way to Give HomeKit a Try
iHome's iSP5 SmartPlug is one of the first five HomeKit-compatible devices on the market, and it's the most affordable option for Apple users who are looking to try out the company's home automation platform. The SmartPlug is a simple device that plugs right into any outlet, transforming any appliance - from lights to fans - into an iPhone-controlled Siri-compatible smart product using WiFi.
We tested out three of iHome's SmartPlugs, simulating what it might be like to control lights and fans across multiple rooms to turn an ordinary home with ordinary outlets into a smart home with a reasonable monetary investment and a bit of time.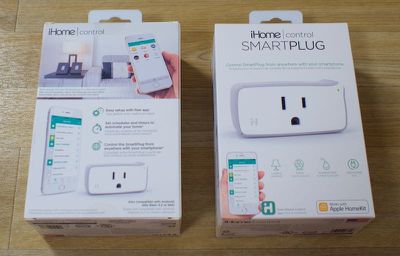 As with the Elgato Eve review I did earlier this summer, using the iHome SmartPlugs makes it clear that there are still a lot of issues that need to be resolved with HomeKit and Apple's HomeKit partner companies, but at the $40 price point, I can recommend the SmartPlug to anyone curious about HomeKit who has the patience to deal with bugs that can range from minor inconveniences to frustrations that make you want to toss your SmartPlug across the room in anger.

Hardware Overview
The iSP5 SmartPlug is a no-frills device that plugs into any outlet within the home to transform it into a WiFi-connected outlet. Each SmartPlug connects individually to a home's WiFi network, so a central bridge is not required. SmartPlugs are rectangular in shape and fairly compact -- small enough that two can be plugged in next to each other in a single 120v wall outlet.


Setting up the SmartPlugs is as simple as plugging them in and downloading the iHome Control app. From there, a WiFi network needs to be confirmed within the app and the HomeKit code supplied with each SmartPlug needs to be entered to register the devices with HomeKit and an iCloud account.




The SmartPlugs can support small home appliances that are up to 1800 watts, encompassing lamps, heaters, fans, home audio systems, window air conditioning units, humidifiers, and more. An unlimited number of SmartPlugs can be used within a single home, but the devices do not work with enterprise WiFi networks and thus won't be usable in corporate environments or colleges.
When a SmartPlug is turned on and connected to a WiFi network, a small indicator LED on the device lights up so its status is clear at a glance, while power is indicated through a lit-up iHome logo. In well-lit rooms, the two LED lights are hardly noticeable, but in a dark bedroom, they're overly bright and can be distracting.


A button at the top of the SmartPlug serves as a manual control for turning it off, and it's also used to initiate resets if there's a connection problem. I used the reset feature on a regular basis while I was testing the SmartPlugs as I continually ran into a problem where they would refuse to work with Siri. Resetting seemed to temporarily fix this issue, but it kept popping up.

iHome App and Siri
The iHome app offers a simple way to control the SmartPlugs and it has the standard HomeKit organizational features allowing devices to be grouped into Rooms and Zones, as well as labeled with a name. With Rooms, different SmartPlugs can be grouped by the room they're in, such as the living room or bedroom, while Zones groups rooms together, like upstairs or downstairs.


Each SmartPlug is given a name, like "lamp" or "fan," which can be used along with the Room name or Zone name to control groups of devices. An individual SmartPlug can be controlled using its assigned name, but multiple SmartPlugs can be controlled by their Room or Zone names, e.g., "turn off the outlets in the bedroom" or "turn off the upstairs lights."
The most efficient way to manage multiple HomeKit devices is through the use of Scenes and Rules. Rules are essentially timers and can be used to set devices to turn on or off at a specific time, with each SmartPlug supporting up to 10 Rules. Right now, Rules only work as timers, but in the future, that feature might expand with the addition of trigger events and other HomeKit options.


It would be nice, for example, to be able to set up a geofence that turns on the lights when I get home, or triggers the bedroom light to come on from an attached door sensor, but those are not yet functions that are available in HomeKit.


Scenes set up conditions for multiple devices that can be activated with a single Siri command. For example, I set up a "bedtime" scene in the iHome app that turned off the living room light, turned off the bedroom light, and turned on the fan. I set a similar "wake up" scene that turned on the bedroom light, turned off the fan, and turned on the living room light.
All of the Scenes, Rooms, and Zones are accessible in the iHome app and can be controlled directly via toggles, but these labels are also used by Siri for voice commands.


Here are some of the example commands showing the ways Scenes, Rooms, and Zones work for controlling multiple devices with Siri:
- Turn on the light in the living room
- Turn off the fan
- Turn on the outlets in the bedroom
- Turn on the outlets upstairs
- Turn on the bedtime scene
- Set my wake up scene
- Is the light on?
- Are the outlets in the bedroom on?
As with my Elgato Eve review, asking Siri to perform these commands did not always work. There were multiple instances where I had to ask my questions two or three times after being told "Hmm, I couldn't get a response from your devices this time," even though the iHome app and manual device control was working fine.


When I got this response, or its sister response "Sorry, I wasn't able to do that," there was nothing I could do. There is no way to troubleshoot HomeKit devices that aren't working because there's no further elaboration on why the connection is mysteriously non-functional. I can unplug the SmartPlugs and plug them in again, or reset my Internet connection, but that doesn't always fix the problem and I don't know why or what else I can do to make these devices work better.
Siri also did not always understand my commands, with something like "Turn on the lights" or "Set the night time scene" occasionally bringing up a web search after working properly five minutes before. In the screenshot below, you can see my multiple attempts to get Siri to turn off the lamp. Every command was the same: "turn off the lamp," which, by the way, was not in the living room.


Using Siri was never guaranteed to be reliable, and having to repeat myself multiple times took longer than it would to open the app or simply walk to the light and flip a switch. Siri was best at single commands: "Turn on the light," "Is the fan on?" "Turn off the fan," and worst at my custom named scenes and group controls: "Turn off the lights in the Living Room," or "set the wake up scene." Combined with the connection problems I had, controlling multiple devices via Siri was more of a chore than a convenience, and I often chose to open up the app.


In addition to my issues with Siri, I had some problems with the iHome Control app that made using the SmartPlugs a more frustrating experience than was necessary. The iHome app logged me out every single day. I had to re-login into the app every morning, and sometimes more than once in a day, a process requiring a username and password (with no Touch ID support).
I also could not get the iHome app to remember my scenes correctly. Every time I added a new device, it deleted the entire scene name, requiring me to enter information multiple times. Even after doing that, it sometimes wouldn't properly save what I'd put in, so I had to continually come back and redo scenes over and over again.
There are also no bells and whistles in this app. It would be nice to be able to access SmartPlug controls from the Notification Center or through an Apple Watch app when Siri's refusing to cooperate, but my only option is to use the full app.

Remote Access
With the Elgato Eve line of accessories, I was not able to get remote access via the Apple TV working, and the same was true of the SmartPlugs. Despite using Apple's troubleshooting tips and logging in and out of iCloud multiple times, I was never able to use Siri to control the devices plugged into the SmartPlugs when away from home. Because they're connected to my WiFi, though, I was able to use the iHome app and the iHome cloud to remotely control appliances.
Other iCloud-based features of HomeKit seem to work fine, so I'm not sure what's wrong with remote access. I'm able to control HomeKit devices using any of my iPads and iPhones that are signed in with the same iCloud account, but that doesn't extend to the Apple TV.
When I reviewed the Elgato Eve line, it was not clear to me which of the bugs I encountered were the fault of Apple and which might be the fault of the Eve line, but after testing the SmartPlugs, I can say it seems to be HomeKit that's the problem. My Apple ID simply does not work for remote access and there seems to be no way to fix that issue beyond creating a new iCloud account, which is not a reasonable solution given how much is tied to an iCloud account -- photos, files, Apple Pay, and more.

Multi-User Support
Since I was installing the SmartPlugs in several rooms in my house, I had to give my husband access to them so he could also control the lights. Light switches can still be used to turn appliances plugged into the SmartPlug on and off, but there's a ~30 second waiting period before a device will turn on because the SmartPlug needs to reconnect with WiFi.
In our living room, for example, I plugged our lamp into the SmartPlug. We could still use the light switch, but found it inconvenient that we sometimes had to wait up to 30 seconds before the light would come on after the switch was turned on.
Setting up multi-user support required the second user's iCloud email address. On the first day I tried to set it up, I got error message after error message about my husband's iPhone being unreachable, despite it being right in front of me. On the second day I tried, it went through, letting him accept the connection request. I don't know why it worked one day and not another day or what I changed to get it to work because again, there's no way to troubleshoot any error in this system.


Once his iCloud address was associated with HomeKit and the SmartPlugs, he was able to see them within the iHome Control app installed on his own phone and he was able to control them using Siri commands. As an average iPhone user with no particular interest in HomeKit, he wasn't impressed with the SmartPlug.
"I'm not going to open an app to turn a light on and off when the switch is right there, because it's easier to turn the light on when I walk past it. Also, I don't like talking with my phone. This seems like a micro optimization that doesn't improve my life."
As a longtime user of smart home products like the Philips Hue and someone who's enthusiastic about the potential HomeKit has, I don't necessarily agree with his assessment, but it's true that HomeKit's limited automation options can make the SmartPlug feel like little more than a less convenient light switch replacement.
In my office, I have Hue lights set up. They come on at 9:00 a.m., dim at sunset, and turn off at night. I'm also able to set up geofencing, set up alarms, automatically activate different scenes, and use them with services like IFTTT, all functionality that I can't replicate with lights plugged into the SmartPlugs. My only automation options are simple timers.

Multi-HomeKit Device Support
Apps for HomeKit products, like the iHome Control app, are designed to recognize all HomeKit devices, and not just those associated with the app. I was able to use the Elgato Eve Energy (another smart plug) in the iHome Control app right alongside the SmartPlugs I installed. I could use them in Scenes and Rules.
Similarly, the SmartPlugs were all accessible to me within the Eve app designed for the Eve line of devices, so I was able to use either app interchangeably to control my devices. I had better luck with the SmartPlugs in the Eve app, because with the Eve Energy in the iHome Control app, I wasn't always able to connect to it.

Bottom Line
Having tested both Bluetooth-connected and WiFi-connected HomeKit devices with the Elgato Eve line and the iHome SmartPlugs, WiFi-connected HomeKit devices seem to be more reliable. In my experience, getting responses from Siri was faster with the SmartPlugs and I had fewer connection issues.
As a WiFi-connected HomeKit device that's also relatively inexpensive, the iHome SmartPlug is probably the best HomeKit option on the market right now for folks who want to give HomeKit a try without a serious monetary investment.


In general, I'd recommend waiting for bug fixes and until there are more HomeKit products available before making a HomeKit purchase, but if you want a HomeKit device now, the SmartPlug is a decent choice. It's far from perfect, but if you want to turn off the bedroom light without getting out of bed or turn on the fan while you're away from home, this is a way to do it.
I do want to point out one shortcoming I haven't yet mentioned. Compared to other devices in this same space, the SmartPlug only turns power on and off. It doesn't have more advanced features like power monitoring, which Elgato's Eve Energy does have.
As for using several SmartPlugs at once, getting Siri to understand commands isn't always reliable, but when it works, the way multiple HomeKit devices function together through Scenes and Rooms can make it simple to control a whole house with a few sentences. I couldn't always get Siri to help me get ready for bed, but being able to use the phrase "set up my bedtime scene" to turn off the lights in the living room and bedroom and turn on my fan was a time saver.


Even when Siri didn't work, I could still rely on the iHome Control app to manage my lights and appliances. This method wasn't always more convenient than a light switch, but it was useful when I wanted to control a light without getting up or to make sure my lights were on when away from home (though iHome cloud, not Apple's remote HomeKit function).
Anyone planning to purchase a SmartPlug or another HomeKit-enabled product should be aware that the platform is still in its early stages. There are a lot of lingering bugs and using HomeKit is far from a seamless experience with few options for troubleshooting problems.
Testing multiple SmartPlugs for this review has taught me that HomeKit is in desperate need of a centralized Apple-designed app that can be used as a control hub for setup purposes and to give at least some information on networking problems. Third-party apps are used to control HomeKit devices and that's just not going to cut it in the future when our homes are cluttered with multiple HomeKit products from a range of different companies.


Third-party apps look different, function in different ways, and can be buggy, making the setup process for HomeKit devices more frustrating than it needs to be. Additionally, the way HomeKit is organized right now, in Zones, Scenes, and Rooms, is just plain confusing and it's not going to get simpler as HomeKit expands.
None of the apps I've used so far adequately explain how these features work and how to set them up for maximum benefit, nor do they explain how Siri works. That's not a problem for me because I'm familiar with HomeKit, but the average iPhone user may have more difficulty, especially when several HomeKit products are involved.
Pros:
- Inexpensive
- Well-made
- Transforms dumb objects into smart devices
- Easy to set up
- Remote access to devices is convenient
- Multi-SmartPlug system lets multiple devices to be controlled with one command
Cons:
- App crashes
- Have to re-login to app frequently
- Loses connection
- Siri is unreliable
- Few in-app troubleshooting options
- Limited automation options
- On/off functionality only

How to Buy
The iHome iSP5 SmartPlug can be purchased from the iHome website for $39.99 or from Amazon.com for the same price.