Apple Shares Drop Below $100 Amid Wider Stock Market Downturn [Updated]
Apple shares dipped below $100 in pre-market trading today amid a wider Dow Jones and stock market downturn, with AAPL fluctuating around the $98-$100 mark prior to the Nasdaq and New York Stock Exchange opening bell at 9:30 AM Eastern. Apple shares last dropped below $100 in October 2014, four months after opening at $92.69 following a 7-for-1 split that took effect in June 2014.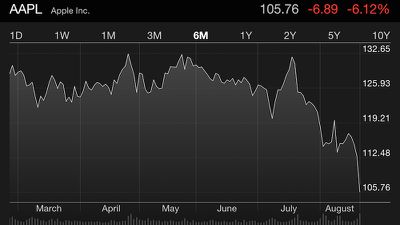 AAPL dips below $100 in pre-market trading after closing at $105.76 on Friday
Apple shares closed at $105.76 on Friday and are down over $35 from a 52-week high of $134.54 set on April 28, but many analysts remain bullish about the stock and believe that the current dip presents a buying opportunity for investors. The company is expected to announce new iPhones and iPads alongside the launch of iOS 9 and OS X El Capitan through the end of October.
Last March, Apple replaced AT&T on the Dow Jones Industrial Average, which is currently down over 500 points. The Dow Jones provides a price-weighted average of 30 significant stocks traded on the NASDAQ and NYSE, including American Express, Boeing, Chevron, Coca-Cola, Disney, Exxon Mobil, Goldman Sachs, IBM, Intel, JPMorgan and Chase, Microsoft, Verizon and Visa.
Update 6:10 AM Pacific: Apple CEO Tim Cook remains bullish about China in an email sent to Jim Cramer:
"Jim,

As you know, we don't give mid-quarter updates and we rarely comment on moves in Apple stock. But I know your question is on the minds of many investors.

I get updates on our performance in China every day, including this morning, and I can tell you that we have continued to experience strong growth for our business in China through July and August. Growth in iPhone activations has actually accelerated over the past few weeks, and we have had the best performance of the year for the App Store in China during the last 2 weeks.

Obviously I can't predict the future, but our performance so far this quarter is reassuring. Additionally, I continue to believe that China represents an unprecedented opportunity over the long term as LTE penetration is very low and most importantly the growth of the middle class over the next several years will be huge.

Tim"
Apple shares opened at around the $95 mark on the Nasdaq today.
Update 8:53 AM: Apple's stock has recovered all of today's losses and is now trading above Friday's closing price, although it remains down significantly from its mid-July peak.