Apple TV Fell to Fourth Most Popular Streaming Media Device in U.S. in 2014
The Apple TV was the fourth most popular streaming media device in the United States in 2014, according to new data compiled by Parks Associates. Sales of the Apple TV were eclipsed by sales of devices from Roku, Google, and Amazon.
Roku continues to be the most popular brand when it comes to streaming media devices, representing 34 percent of units sold, while Google and its Chromecast were responsible for 23 percent of device sales. Amazon's Fire TV was the third most popular choice, while Apple came in fourth. In 2013, the Apple TV was the third most popular streaming media device, but in 2014, it fell behind the newly introduced Fire TV and Fire TV Stick.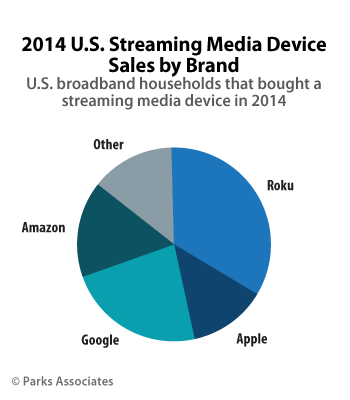 Combined, streaming media devices from Apple, Roku, Google, and Amazon were responsible for 86 percent of all streaming media device sales to U.S. broadband households.
According to the data, almost 20 percent of U.S. households now own one or more streaming media players. When it comes to ongoing usage, Roku devices are unsurprisingly at the top of the list. 37 percent of households regularly use a Roku device, 19 percent use a Google Chromecast, 17 percent use an Apple TV, and 14 percent use an Amazon Fire TV/Fire TV Stick.
With a new Apple TV on the horizon, the streaming media device market could shift in Apple's favor in 2015 and 2016. The new Apple TV is a radical departure from the existing Apple TV, which has not been updated for several years. It will include a full App Store that supports games and apps, Siri integration, a refreshed design and operating system, more storage space, and a touch-based remote control.
The Apple TV won't be able to compete with devices like the Google Chromecast or the Amazon Fire TV on price, but it will bring a host of features not offered by other products.