Apple Watch Hacked to Display Custom Watch Faces
Apple doesn't allow developers to create custom watch faces for the Apple Watch, preferring to maintain control over the general look of the device, but that hasn't stopped iOS developer Hamza Sood from tinkering with the Apple Watch and getting a custom watch face uploaded onto the device.
In a tweet posted this afternoon, Sood shared a video of a custom animated watch face with multiple color options.

The watch face source code that was used to create the custom watch face has been made available on
GitHub
and will require watchOS 2. Earlier this summer, Sood also joined several other developers in efforts to
hack watchOS 2
to run truly native apps like
Canabalt
and a
Flappy Bird
clone.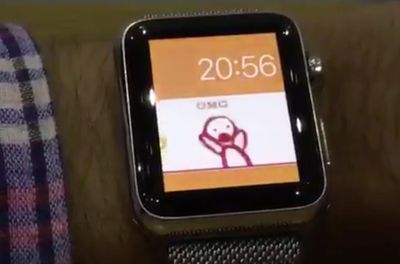 It is not clear if Apple has plans to allow third-party developers to create watch faces for the Apple Watch in the future, but it's possible that as watchOS and the Apple Watch mature, Apple will be less restrictive. For now, hacks like Sood's are the only way to get custom watch faces on the device.