Apple Introduces New Apple Watch Link Bracelet Kit, L/XL Sport Bands to Fit Larger Wrists
Apple today introduced a new Link Bracelet Kit, which is equipped with six additional stainless steel links to make the 42mm Link Bracelet able to fit wrists that exceed 205mm. The six links expand the band by up to 40mm, for a maximum size of 245mm.
The Link Bracelet is Apple's only modular band, with size that can be adjusted by adding or removing links. That makes it the only band that can be expanded in this way, and with six additional links, it'll be the band best suited for wrists larger than 215mm, which is where the Classic Buckle maxes out.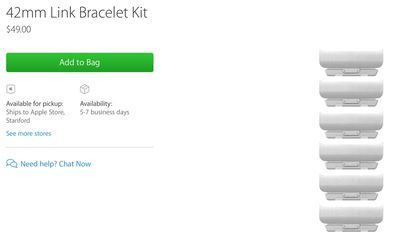 Apple has also introduced new sizing options for the Apple Watch Sport Band, introducing an L/XL sizing option for 42mm Apple Watches. Apple Watch Sport Bands are now sold in two configurations: S/M & M/L, and M/L & L/XL. The new L/XL size option is available in black or white and expands the size range of the Sport Band to 245mm.


While Apple Watch bands were initially designed to fit a range of wrist sizes from 135mm to 215mm, there have been complaints that the Apple Watch bands are not large enough for bigger wrists. Quite a few people on Apple's support forums have requested XL-sized bands, and Apple's effort to introduce a kit for the Link Bracelet and new sizing options for the Sport Band is its first move towards offering an wider range of sizes.
Apple's Link Bracelet Kit is priced at $49 and available for purchase immediately through the company's online site. It ships out in 5 to 7 business days