iPad Mini 4 Likely to Support Split View Multitasking
Files within OS X El Capitan indicate the upcoming iPad mini 4 will support full Split View multitasking, suggesting its internal specs will be on par with the iPad Air 2. An OS X El Capitan resource file first located by developer Hamza Sood and 9to5Mac from the Safari 9 browser depicts an iPad mini with two apps side-by-side, which is how the Split View feature works.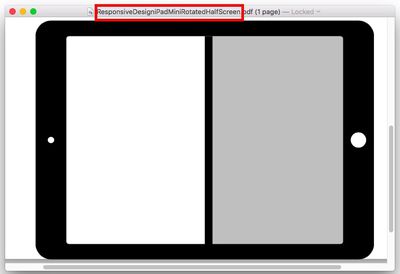 Responsive design mode, which gives developers a way to test different layouts in Safari 9, also allows developers to simulate a Split View layout on an iPad mini 3. The iPad mini 3 does not support Split View, offering further proof that the iPad mini 4 is likely to be the tablet that uses Split View multitasking.


iOS 9 introduces multitasking for the iPad, and while two of the features, Picture-in-Picture and Slide Over, are available on the iPad Air, iPad Air 2, iPad mini 2, and iPad mini 3, the true Split View multitasking feature is only available on the iPad Air 2 because it has 2GB of RAM and a robust A8X processor.
To support Split View, the upcoming iPad mini 4 will need to have internal specs that match or exceed those of the iPad Air 2. It's likely the device will include Apple's A8X processor or the A9 processor that's being used in its 2015 iOS devices, with 2GB of RAM also being a strong possibility.
Multitasking on the iPad in iOS 9
Specs for the iPad mini 4 have not yet been confirmed, as rumors have focused primarily on the external design of the device. It's expected to look like a smaller version of the iPad Air 2, with a much slimmer 6.1mm body and iPad Air 2-style design features.