StackSocial has launched a new "Pay What You Want" Mac software bundle, offering a selection of 10 apps to users who match or exceed the average payment price. Currently, the average price is at $5.56, significantly less than the $383 retail price for the apps, but it will go up as the sale goes on.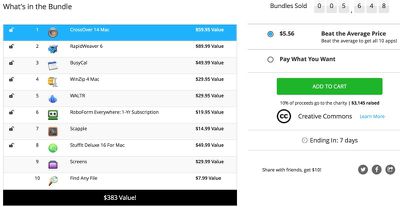 A payment higher than the average price earns users access to all apps, while smaller donations will unlock fewer apps. 10 percent of the proceeds from the sale will go to non-profit organization Creative Commons. A full list of apps included in the bundle is below:
- CrossOver 14 Mac ($59.95) - Lets Windows apps be run on the Mac.
- RapidWeaver 6 ($89.99) - Theme-based website development software.
- BusyCal ($49.99) - Calendar app for the Mac that replaces the default app.
- WinZip 4 Mac ($29.95) - Zips and unzips files.
- WALTR ($29.95) - Transfers and converts media files in any format to a format playable on iOS devices.
- RoboForm Everwhere: 1-Year Subscription ($19.95) - Cross-platform password management service.
- Scapple ($14.99) - Freeform mind-mapping software for jotting down ideas and finding connections.
- StuffIt Deluxe 16 for Mac ($49.99) - Compresses files to shrink size.
- Screens ($29.99) - Virtual network client (VNC) and screen sharing app that gives remote access to multiple computers.
- Find Any File ($7.99) - Spotlight alternative for searching through files.
To encourage higher purchase prices, StackSocial is giving away an iPad Air 2 through a random drawing. Entries are earned by paying a high enough price to make it onto the price leaderboard at any time during the sale. The top payment at the time of this post was $45.
StackSocial's "Pay What You Want" bundle will be available for purchase until September 5.
MacRumors is an affiliate partner of StackSocial.