NFL 'Game Pass' With On-Demand Game Broadcasts Coming to Apple TV
The NFL has long offered various packages that let football enthusiasts watch games on their mobile devices, but it's always been difficult to get that content on the Apple TV. That may be changing, however, according to a website dedicated to a revamped Game Pass program that the NFL plans to debut later this summer.
For viewers in the United States, the NFL currently offers Game Rewind, with access to on-demand NFL games after they air on broadcast television. As of July 31, 2015, Game Rewind is being discontinued in favor of Game Pass, a consolidated service that will offer all 256 NFL season games on-demand as well as access to live out-of-market preseason games.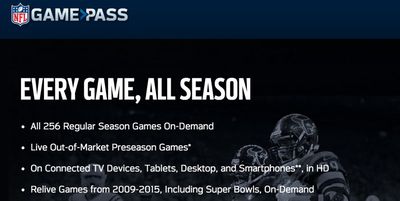 Game Pass access will be added to the existing NFL Mobile app on the iPhone and the iPad, and the website indicates Game Pass content will also be available on "select connected TV devices" including the Apple TV. When the new Game Pass service is made available on the Apple TV, it'll be the first time the NFL has allowed full game broadcasts on Apple's set-top box, which is big news for football fans who are also cord cutters.
At the current time, there's an NFL Now channel on the Apple TV, but this is limited to historic videos, breaking news, and game highlights, rather than complete games due to contracts with television providers. With the prior Game Rewind service, the NFL went so far as to disable AirPlay mirroring to the Apple TV in an effort to keep broadcasts limited to iOS devices.


The new Game Pass works a lot like the former Game Rewind service. It includes live access to most preseason games, aside from those that are nationally broadcast, plus on-demand regular season, playoff, and Super Bowl games that are available after they air on broadcast television.
Game Pass is available in the United States, Bermuda, Antigua, the Bahamas, any U.S. territories, possessions and commonwealths (including American Samoa, Guam, Puerto Rico and the US Virgin Islands), and Mexico. Pricing for the Game Pass is not yet listed.
NFL fans outside of the United States already have access to an international "Game Pass" service that offers up live games and on-demand content, and while it confusingly shares the same name as the new service available in the U.S., it appears the international service will continue to be available.
(Thanks, Tyler!)