Tim Cook Named to Duke University's Board of Trustees on Six-Year Term
Apple CEO Tim Cook has been named as one of eight new board of trustee members at his alma mater Duke University, where he earned his MBA from the Fuqua School of Business in 1988, the school announced today. Cook began serving his six-year term on July 1 and will assist the governing body in determining Duke University's educational mission and fiscal policies.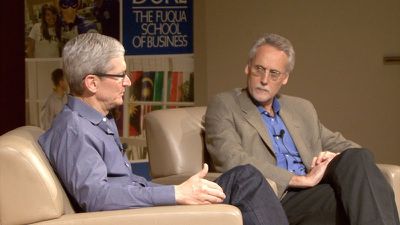 Tim Cook speaking at Duke University in April 2013
The other new trustees are The Coca-Cola Foundation chairwoman Lisa Borders, PRM Advisors founder Patricia Morton, NBA commissioner Adam Silver and ValueAct Capital CEO Jeff Ubben. Duke University also appointed three observing members on the board, including Elastic Fabrics of America marketing executive and Duke alum Jack Boyd, recent Duke graduate Anna Knight and Duke JD/MBA candidate Ben Shellhorn.
Cook returned to Duke University in 2013 for his 25th reunion and participated in an hour-long dialogue with Fuqua School of Business Dean Bill Boulding and students about why Apple is successful, collaboration, ethical leadership, career planning, inspirational leaders, intuitions and more. The embedded playlist of videos above will play through each of the seven clips that the university shared.

Cook has also long been a supporter of Duke University basketball and took several photos with fans during the school's NCAA Final Four men's basketball championship winning game against Wisconsin on April 6. The chief executive made headlines at the time for wearing an Apple Watch, which became available for pre-order four days later before officially going on sale April 24.