During a recent press tour for the period drama A Little Chaos, actress Kate Winslet commented on the shooting process for the upcoming Steve Jobs movie (via Entertainment Weekly). While the movie's structure was already known, Winslet solidifies the idea of the Aaron Sorkin-penned screenplay as three separate 45-minute scenes that are each continuous, in-real-time scenes that begin with him arriving at the event and end with his entrance onto the stage.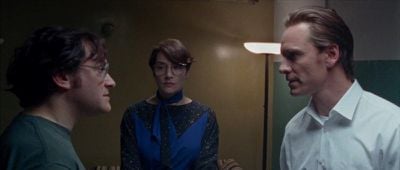 "The way in which that film was shot was extraordinary… extraordinary," said Winslet, whose excitement for the project bubbled to the surface during her recent press tour for A Little Chaos. "Each act is continuous 45 minutes backstage of real time at each launch that Steve Jobs made during those time periods — '84 was the launch of the Macintosh, '88 was the NeXT computer, '98 was the iMac. Each act takes place backstage and literally ends with him walking from the wings on to the stage to rapturous applause."
Winslet continued to comment on the way director Danny Boyle actually shot the movie, describing takes that would last as long as nine minutes, "sometimes even longer." She ends with comparing star Michael Fassbender's dedication to memorizing 182 pages of dialogue to the work of actors and actresses on a Shakespearean stage production, except twice as hard.

"We have nine-minute takes, sometimes even longer," Winslet continued. "I think there's a scene that Michael and Jeff had that was about 14 pages, so it really went for 11 minutes of continuous dialogue. It's not unusual for an actor to learn huge passages of dialogue when you do a play. But it is unusual for an actor like Michael Fassbender to learn 182 pages of dialogue of which he's on every page. It's like Hamlet, times two."
Conversations surrounding the movie have been circulating thanks to yesterday's release of the first full-length trailer, which gave fans their first in-depth look at Fassbender, Winslet, Jeff Daniels, and Seth Rogen in the new movie. Universal will most likely release another look at the movie before its debut, which is still three months away on October 9.