Jony Ive Officially Takes 'Chief Design Officer' Title at Apple
Apple senior executive Jonathan Ive has officially assumed the role of "Chief Design Officer" at Apple effective today, after being promoted from his previous role of "Senior Vice President of Design" nearly six weeks ago. Apple has updated Ive's executive profile on its leadership website to reflect the design chief's new position as Apple's third active C-level executive alongside CEO Tim Cook and CFO Luca Maestri.
Jonathan Ive is Apple's Chief Design Officer, reporting to CEO Tim Cook. Jony is responsible for all design at Apple, including the look and feel of Apple hardware, user interface, packaging, major architectural projects such as Apple Campus 2 and Apple's retail stores, as well as new ideas and future initiatives.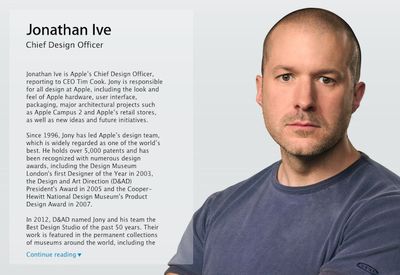 Apple announced in a company-wide email last month that Ive would be promoted to Chief Design Officer on July 1 and turn over his day-to-day management of the company's design teams to Richard Howarth and Alan Dye, who have both been elevated to vice president positions. Ive will remain responsible for all of Apple's design, with a focus on redesigning Apple Stores and other larger projects.
Jony is one of the most talented and accomplished designers of his generation, with an astonishing 5000 design and utility patents to his name. His new role is a reflection of the scope of work he has been doing at Apple for some time. Jony's design responsibilities have expanded from hardware and, more recently, software UI to the look and feel of Apple retail stores, our new campus in Cupertino, product packaging and many other parts of our company.
Apple has also added executive profile pages for design vice presidents Howarth and Dye.


Ive spoke with The Telegraph journalist Stephen Fry last month about his decision to relinquish some of his control, stating that he is still in charge of Apple's design departments without needing to focus on administrative and management work, responsibilities that will now fall under his lieutenants Howarth and Dye. The move had been widely expected for several years.
When I catch up with Ive alone, I ask him why he has seemingly relinquished the two departments that had been so successfully under his control. "Well, I'm still in charge of both," he says, "I am called Chief Design Officer. Having Alan and Richard in place frees me up from some of the administrative and management work which isn't … which isn't …"

"Which isn't what you were put on this planet to do?"

"Exactly. Those two are as good as it gets."
Ive has been a full-time Apple employee since 1992, and rumors about him scaling back at the company have gained momentum over the years. Ive in the past has expressed his desire to spend more time in his native England, where he grew up, and his promotion will enable him to travel more often and possibly work remotely at times. Ive and his family currently live in an upscale neighborhood in San Francisco.