Apple SIM Cellular Data Plans Now Available in Over 90 Countries
Apple has reached a partnership with mobile connectivity company GigSky to expand Apple SIM cellular data plans to over 90 countries and territories around the world. iPad Air 2 and iPad mini 3 users that have Apple SIM installed can now purchase short-term data plans while traveling in a long list of countries throughout Europe, Asia-Pacific, Africa, South America and other regions worldwide.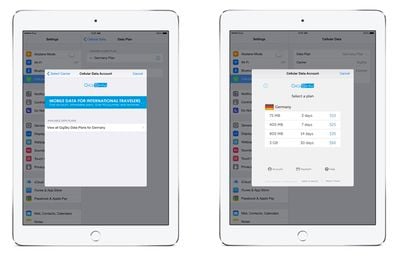 Apple SIM is now available for purchase at Apple Retail Stores in Australia, Canada, France, Germany, Italy, Netherlands, Spain, Sweden, Switzerland, Turkey, the United Kingdom and the United States. Apple SIM cellular data plans were previously limited to participating carriers in the United States and United Kingdom, including AT&T, Sprint and T-Mobile in the U.S. and EE in the U.K.
"With Apple SIM in iPad Air 2 and iPad mini 3 with Wi-Fi + Cellular models, you get the convenience of choosing a cellular data plan from select carrier partners right on your iPad. And when you travel abroad, Apple SIM gives you the added flexibility to stay connected in more than 90 countries and territories around the world. So when you reach your destination and want to check your email, find directions, or send a message back home, you can purchase a cellular data plan for the duration of your trip — whether it's a day, a week, or a month."
GigSky cellular data plans are available on a pay-as-you-go basis with no long-term commitments. Exact prices are listed on GigSky's website and vary based based on the country, data amount and length of plan. Given that iPads are unlocked, travelers can also insert a SIM card belonging to a local carrier if preferred.
Apple has posted a full list of countries with Apple SIM coverage on its website.