Apple Watch Sport's Display With Ion-X Glass Outperforms Sapphire Models in Bright Lighting
Although there has been much comparison of the scratch-resistance and weight differences between the two Apple Watch display cover options -- sapphire crystal and Ion-X glass -- not much has been scientifically tested regarding each model's reflectiveness. A new report by DisplayMate out today, however, shows just how much lower reflectivity and higher contrast there is on the Apple Watch Sport's Ion-X glass compared to the higher-end Apple Watch models with sapphire.
As DisplayMate points out, the two models have identical OLED displays internally, but thanks to the different outer coverings, the different models react uniquely in bright light situations. In summary, the site found that the Apple Watch with sapphire crystal display reflects 74 percent more ambient light than the Ion-X glass of the Sport model. The two displays behave almost identically in dark environments given the low levels of ambient light available for reflection.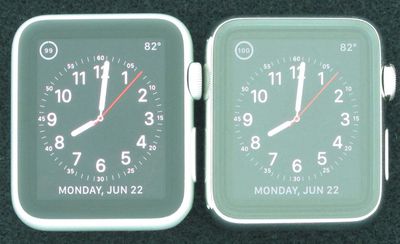 Photo comparing Ion-X glass (left) and sapphire crystal (right) taken at 2,000 lux, which equates to moderate outdoor lighting
For the Apple Watch Sport with Ion-X Glass we measured the Screen Reflectance to be 4.7 percent, while for the Apple Watch with Sapphire we measured 8.2 percent Screen Reflectance, which is 74 percent higher than with Glass. Both values are about 0.6 percent higher than just pure sapphire and glass alone, indicating that Apple has done an excellent job in optically bonding both the glass and sapphire to the OLED display without an air gap.

The 74 percent higher Reflectance of the Apple Watch with Sapphire means that its screen will reflect almost twice as much surrounding ambient light as the Apple Watch Sport with Glass. And it takes surprisingly little ambient light for that to make a significant visible difference…
Starting in the dark at 0 lux, DisplayMate increased light levels in successive stages of testing to discover the contrast ratios of each screen under increasingly stressful lighting situations. With both displays set to their maximum brightness, at 500 lux ("mid-range indoor ambient lighting") the display contrast ratios had fallen from 100 to 64 for Ion-X and 38 for sapphire, illustrating the distinct visibility advantage for the cheaper model. Jumping to 2,000 lux ("moderate outdoor lighting in the shade or an overcast sky"), the ratios drop to 17 and 10 for Ion-X glass and sapphire, respectively.

Chart comparing various aspects of reflectivity between the two displays
For a full-on sunlight measurement of 10,000 lux, the Ion-X glass display contrast ratio fell to 3 while the Sapphire Crystal came in at just 2. So, while the Sport's display proves to handle moderate outdoor sunlight much better than the sapphire display, both are significantly impacted by harsh, direct sunlight.
Higher reflectivity and lower light transmittance were highlighted as challenges for Apple amid Apple's failed partnership with GT Advanced Technologies for sapphire production and rumors the iPhone 6 would include a sapphire display cover. Recent advancements in sapphire production technology may, however, overcome those difficulties, with future generations of products able to use sapphire that has better viewing characteristics than glass while retaining sapphire's advantages of high scratch resistance.