Kenwood's Aftermarket CarPlay and Android Auto Systems Now Shipping
Kenwood today announced that its two aftermarket CarPlay and Android Auto systems unveiled at CES 2015 are now shipping to retailers with a suggested price of $900 to $950 each. The Kenwood DDX9702S and Kenwood Excelon DDX9902S are the only aftermarket units that allow drivers to switch between CarPlay and Android Auto without having to manually change settings or reset the unit.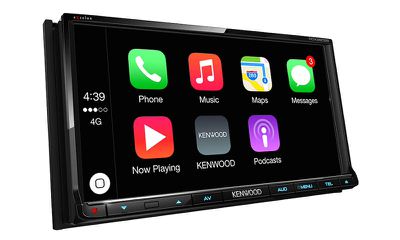 For CarPlay, the aftermarket systems use Siri voice control to provide hands-free access to Maps, Phone, Messages, Music, Podcasts and third-party apps such as Spotify, Rdio, iHeartRadio, CBS Radio and MLB At Bat. Similarly, Android Auto allows drivers to use Google voice to play and select music, receive directions and hear turn-by-turn navigation, while Google Now cards provide contextual location- and preference-based information at relevant times.
The multimedia receivers serve as in-car entertainment and information systems, with both featuring a 6.95-inch resistive touch display with navigation, a back-up camera view and multiple audio and video options. Both units are also SiriusXM-ready and feature Bluetooth for handsfree phone calls and streaming media playback, built-in HD Radio, an HDMI input with MHL support and DVD playback.
Pioneer announced in late March that its CarPlay and Android Auto aftermarket systems are also available at select retailers in the United States for between $700 and $1,400. The second-generation NEX in-dash multimedia receiver models available include the AVIC-8100NEX, AVIC-7100NEX and AVH-4100NEX, and the CarPlay-only AVIC-6100NEX and AVIC-5100NEX.


In addition to standard CarPlay and Android Auto functionality, including Siri voice control and Google Now contextual information, the aftermarket Pioneer NEX units feature advanced Bluetooth capabilities, an AppRadio mode, MirrorLink compatibility, iDatalink Maestro support, the ability to stream Pandora and SiriusXM, and FLAC file playback.
CarPlay and Android Auto support is also being added to several General Motors vehicle brands this year, including 14 new 2016 Chevrolet models, select 2016 model Cadillacs, excluding the SRX Crossover, and select 2016 Buick and GMC models. Volkswagen is also adding CarPlay support in late 2015.