Google Announces Android 'M' Developer Preview, Android Pay and Free Unlimited Photo Storage
Google today previewed Android "M," the next major version of its mobile operating system featuring Android Pay for mobile payments, app permissions, an improved web experience with Chrome Custom Tabs, app linking, Doze power management, USB-C support, direct sharing, simplified volume controls and a handful of other incremental improvements and bug fixes.
Google also announced free unlimited high-quality photo (16MP) and video (1080p) photo storage through a new service aptly named Google Photos for iOS, Android and the web, contextual information and a new "Now on Tap" feature for Google Now, and an "Internet of Things" operating system and HomeKit rival called "Project Brillo" for devices like thermostats and lightbulbs.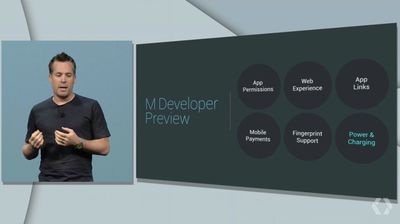 Android M prompts users with app permissions when access is required to certain elements of the operating system, including the microphone, location services, camera, contacts, phone, SMS, calendar and sensors. The new software version also features app linking, with verified links automatically redirecting to their related app without a cumbersome dialog popping up.
Android M delivers an improved web experience with Chrome Custom Tabs, which function as a Chrome web view overlaid in third-party apps with prefetched content. Google partnered with Pinterest, for example, to integrate Chrome Custom Tabs, providing all of Chrome's benefits such as signing in, saved passwords, autofill and multi-process security. Chrome Custom Tabs are available on the Chrome developer channel today and in Q3 for the public.
Doze is a new power and charging management system built into Android M that tracks your device sync activity and exponentially blocks background app activity when possible for up to double the amount of standby battery life, based on a side-by-side test of a Nexus 9 running Android Lollipop and Android "M" Developer Preview.
Google also briefly announced several other features of Android M, including USB-C support, simplified volume controls, improved Bluetooth low energy scanning, support for seven additional languages, unified Google and device settings, direct sharing and more. Android M is available today as a developer preview for the Nexus 5, Nexus 6, Nexus 9 and Nexus Player and in Q3 for the public.
Android Pay


Android Pay, essentially a rebranded and improved version of Google Wallet, is an NFC-based mobile payments service with virtually identical functionality as Apple Pay. Android Pay keeps payment information secure by generating a virtual account number and requiring fingerprint authentication for secure identification.
Android users can add their supported credit and debit cards to the Android Pay app and easily tap to pay at over 700,000 retailers and businesses that accept contactless payments, such as American Eagle, Bloomingdale's, McDonald's, Macy's, Staples, Target and Walgreens. Android Pay can also be used for in-app purchases in supported apps.
Google announced that four major credit card companies in American Express, MasterCard, Visa and Discover will support Android Pay, alongside major financial institutions and AT&T, Verizon and T-Mobile in the United States. More partners should be added in the future.
Project Brillo
Brillo is a slimmed-down version of Android that's designed to power the Internet of things. It's an operating system that will be made available to manufacturers, who can build it into devices like thermostats and lightbulbs. It includes support for Wi-Fi and Bluetooth 4.0.


Weave goes along with Brillo and serves as a communications layer that allows Internet of things devices to talk to one another. With Weave, Brillo devices, smartphones, tablets, and the Internet can communicate. Weave is cross-platform, so it can work with non-Android devices, and Android devices can auto-detect Brillo and Weave devices. Brillo will be available to devs in Q3, while Weave will be available in Q4.
Google Now
Google announced a new feature for Google Now in Android M: Now on Tap. With Now on Tap, you can tap on the home button of an Android device to get more information about what's on the screen.


For example, when listening to music in Spotify, if you tap and hold on the home button and ask a question about the artist, Google Now understands the context and will reply. When tapping on the home button, Google Now is able to read the content of any app that's running and bring up relevant, contextually aware Google Now cards. Apps don't need to implement support -- it works automatically.
Another example: On stage, a chat window with a discussion about laundry and a restaurant was brought up. A tap on the home button brought up a to-do card and cards for Maps, Yelp, and OpenTable.
Google Photos
Google announced a new Photos app centered around three ideas: a "home" for all your photos, deep organization, and sharing. Google Photos includes unlimited high-quality photo (16MP) and video (1080p) storage at no cost. It's launching today on Android, iOS, and web.


Google Photos backs up all photos from an Android device, much like iCloud Photo Library. The smartphone app looks quite similar to the Photos app on the iPhone, supporting a main view with all photos with pinch gesture controls for zooming in and out on albums and timelines.
Google Photos includes auto-organization that organizes photos by people and place. Its facial recognition capabilities are impressive, able to recognize a person even as that person ages. A Photos Assistant feature automatically creates GIFs and videos from your content, which you can share or delete. Sharing is simple -- you can group multiple photos and instantly get a link that lets other people see the images.
Juli Clover contributed to this report.