Google Search Will Begin Indexing iOS App Content in Coming Weeks
Google has announced that it will begin indexing content from iOS apps in search results in the near future, enabling iPhone users to open mobile app content straight from Google Search. The company says that indexed links from an initial group of apps will begin appearing on iOS in search results in both the Google app and Chrome for signed-in users in the coming weeks.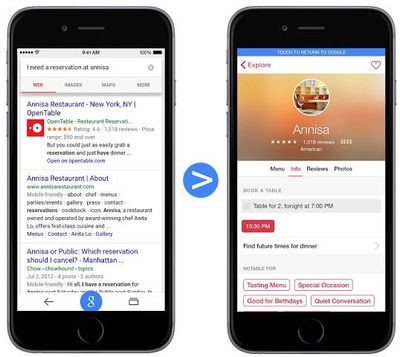 Google first introduced app indexing in search results for Android in October 2013, giving developers full control over what app content they would like indexed in search results. A user looking to make a reservation at a restaurant in New York, for example, can access an indexed version of OpenTable directly from search results, book a table and return to Google by tapping the top bar.
Google also outlines instructions for developers on how to get an iOS app indexed in search results, a process that, among other steps, involves adding deep linking support to the app and submitting an iOS app indexing interest form. Google notes that filling out the form does not automatically guarantee getting app deep links in iOS search results, and encourages those interested to attend the "Get your app in the Google index" talk at Google I/O this week.