Selfie, Bacon, and Avocado Among Emoji Proposed for Inclusion in 2016's Unicode 9
The Unicode Consortium today released a list of 38 emoji characters that are candidates for inclusion in Unicode 9.0, which is set to be released in the middle of 2016. These represent emoji that could be available on iOS and Mac devices in the future.
Candidates include a range of different character emoji, from "face with cowboy hat to "drooling face" and "lying face." "Selfie," an emoji represented by a hand holding a camera, is also on the list, as is "shrug," and "handshake." As for food, emoji proposals include croissant, avocado, cucumber, bacon, potato, and carrot. There are also several proposed animal additions: fox face, eagle, duck, bat, shark, and owl.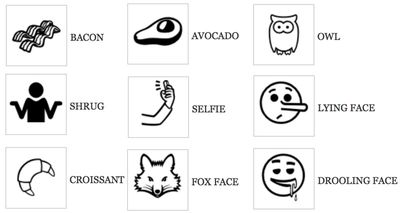 According to the Unicode Consortium, these emoji have been chosen for several reasons. Some are proposed based on expected high frequency of use or due to requests from online communities. Others on the list fill in gaps in existing emoji sets or are compatible with emoji characters in existing systems.
Emoji candidates are not finalized so it's possible that some of the characters on the list could be removed before Unicode 9 is released in 2016, and it's also possible that additional characters could be added to the list.
The emoji proposed for inclusion in Unicode 9 are separate from the emoji that will be included in Unicode 8. Unicode 8, which includes specifications for the emoji modifiers that Apple introduced with iOS 8.3 and OS X 10.10.3, is set to be released in mid-2015 and is currently in beta testing.
Emoji additions proposed for Unicode 8 include zipper-mouth face, nerd face, thinking face, robot face, hugging face, hot dog, burrito, taco, cheese wedge, popcorn, and unicorn face, among others.
It is not known if and when Apple will adopt the Unicode 8 and Unicode 9 emoji as it still has not added the Unicode 7 emoji that were finalized in June of 2014.