Some Apple Watch Users Experiencing Issues With Inconsistent Heart Rate Data Following Update
Following the release of Watch OS 1.0.1 on Tuesday, Apple Watch users have been noticing a problem concerning the frequency with which the Apple Watch sends heart rate data to the iPhone. Prior to the update, the Apple Watch sent heart rate information to the iPhone's Health app every 10 minutes, but now some users are seeing inconsistent update times.
As highlighted by everythingiCafe on Wednesday, Apple Watch owners on the MacRumors forums and Apple's Support Communities have been complaining that their Apple Watches are sending data sporadically, with gaps up to eight hours in some cases.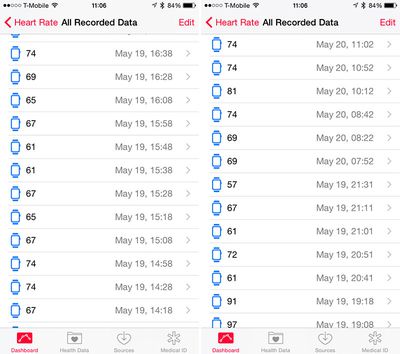 Before update on left, after update on right. Image via MacRumors forum member twisted-pixel.
Many of the users are still seeing occasional updates to the
Health
app, but at
unpredictable intervals
that are not as frequent as the previous 10 minute update intervals, and some are also seeing duplicate readings. This bug is not affecting all users, as some people are still reporting regular data transfers, but for the users experiencing issues, unreported heart rate data seems to be irretrievable.
I also noticed that my heart rate data in the health app for about a week period is gone and my heart rate data is now updating into the app intermittently. I spoke with Apple customer service this morning, but data could not be restored and their advice was to restart both the iPhone and the Watch, clean the sensor back, and keep an eye on it. That, unfortunately, has not fixed anything and I think there might be a bigger problem on our, er, hands (or wrists).
For those unaware, the heart rate information collected by the Apple Watch's sensors is aggregated in the Health app on the iPhone, giving users a picture of their overall heart health throughout the day. With consistent 10 minute readings, the iPhone is able to provide clear and consistent data that wearers can share with doctors and use to make health evaluations.
Data that is sent sporadically is less useful for these purposes, causing this bug to significantly impact the health tracking abilities of the Apple Watch for users who are affected.
Some individuals experiencing issues have said that restarting their devices temporarily solves the problem, but the sporadic measurement times return shortly after. On the Apple Support Communities, one affected user who spoke with Apple suggested that his Apple Watch stopped sending heart rate measurements when he was actively moving.
Apple is collecting information from users who call in with the issue, and some have been told that the company is working on a fix.