Apple Releases First Apple Watch Software Update With Bug Fixes and Performance Improvements
Apple today released the first software update for the Apple Watch, upgrading it to Watch OS version 1.0.1. Released to the public on April 24, the Apple Watch initially shipped with version 1.0 of Watch OS, the operating system unique to the Apple Watch and deeply linked to iOS.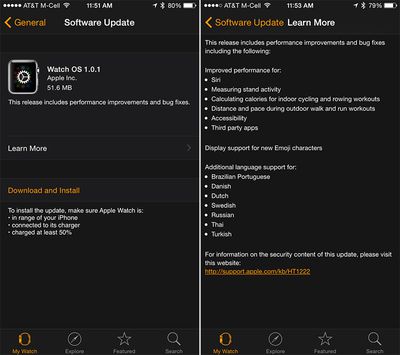 The new software can be downloaded through the dedicated Apple Watch app on the iPhone by going to General --> Software Update. To install the update, the Apple Watch must be placed on the charger and it must be in range of the iPhone.
Watch OS 1.0.1 includes performance improvements and bug fixes for Siri, measuring stand activity, calculating calories for indoor cycling and rowing workouts, distance and pace during outdoor walking and running workouts, accessibility, and third-party apps. The software update also includes support for new the emojis found in iOS 8.3 and it provides additional language support for Brazilian Portuguese, Danish, Dutch, Swedish, Russian, Thai, and Turkish.
Apple has been steadily shipping Apple Watch devices out to customers, but supplies remain constrained and some Apple Watch orders have not yet shipped out. Customers receiving an Apple Watch shortly after today's update will need to update the software on the device after taking it out of the box.