Apple Planning Transit Routing in iOS 9 Maps, Advances on Indoor Mapping Project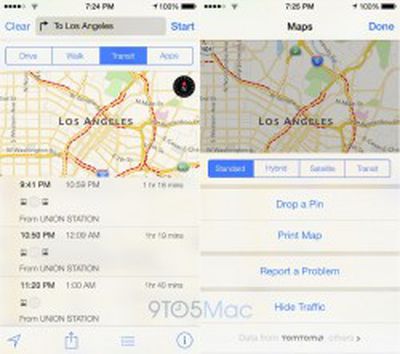 Apple is planning to add a new Transit view to Maps in iOS 9 that features bus, subway, and train routing and directions, according to 9to5Mac. The much-rumored Apple Maps feature would bring native transit routing back to the iPhone for the first time since Apple ditched Google as the default mapping provider on iOS. The report also claims that Apple has made advancements on its indoor mapping project.
"Sources said last year that the transit functionality for Maps includes larger icons for users to more quickly spot airports, subway stations, and train stations within the Maps app. In addition to the main functionality, there is also a trip planning feature for transit, and a new Transit view alongside the existing Standard, Hybrid, and Satellite/Flyover views."
Transit features in Apple Maps were originally expected to launch alongside iOS 8 last year, but were delayed due to personnel issues and data inconsistencies within Apple. The company has reportedly "refined the data, added new cities, and developed a new push notifications system" since that time, however, and the feature is now ready to be unveiled at the upcoming Worldwide Developers Conference in June.
Apple has been actively expanding its in-house routing team over the past few years through multiple job openings. In late April, for example, the company put out a job listing for a "Maps Software Engineer" part of the Routing team, as reflected by at least one Apple employee's LinkedIn profile. "As a member of the Routing team, you will work on one of the most anticipated features of Apple Maps," the job description reads.


Apple has also been making progress on its indoor mapping project, which will enable iOS users to navigate major buildings, offices and landmarks. The company has been using autonomous robots with iBeacon sensors to collect indoor mapping data, starting at its offices in Cupertino, although the feature may not go live this year. The indoor mapping project is in conjunction with Apple's van-based street mapping data collection.