Apple to Remodel Flagship Regent Street Store in United Kingdom
Apple is planning to remodel its flagship Regent Street retail store in United Kingdom per a recent application filed with the City of Westminster in England. The company has contracted award-winning architecture firm Foster and Partners to design the layout of the new store and commissioned Donald Insall Associates to conduct a historic building report that justifies the renovations in the iconic shopping area.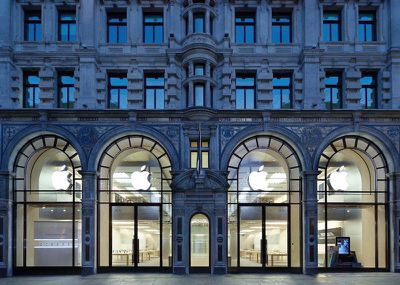 A view of the current Apple Store facade facing Regent Street (Foster and Partners)
The proposed renovation will consist of the partial removal of the existing mezzanine floor at the front of the store, the relocation of three columns to create a more spacious feel, the removal of the existing main glass stairs leading up to the mezzanine level and replacement with two new side staircases, and re-configuration of the back of house at the basement level with improved staff facilities.
"The proposal looks to enhance the ground floor sales area by removing the front part of the mezzanine and creating a double height entrance," reads Foster and Partners' project rationale. "This partial removal of the mezzanine also enhances the transparency from the street and floods the store with natural light. The interior front facade, with its full height arches, clad in natural Portland stone, can now be appreciated in its full extend. Moreover the visual connection between the two levels of retail is dramatically improved. This is key to the customer journey and the efficient use of the overall retail area."
Foster and Partners will also be removing the four Apple logos found on the store's facade in order to allow more natural light inside and preserve the historic look of the building. The store's overall square footage will be reduced by 4,400 square feet, or around 25% of the current size, and the interior will consist of terrazzo floor, GFRC cladding on the walls and oak timber for all fittings and fixtures.

Floor plan for remodeled Regent Street store interior (Foster and Partners)
Apple plans to open a temporary store at 235 Regent Street to continue to serve customers during the remodeling process. The temporary location will be located at the basement level of the same building as the permanent store for a maximum of three years, accessible by a carefully designed lobby at ground level with a minimal steel staircase and a fully accessible lift.
Apple's flagship Regent Street retail store opened in November 2004 and attracts over 4 million visitors per year. The iconic store was last expanded and remodeled in mid-2006 to become the largest Apple Store location at the time. Apple has contracted Foster and Partners for several other projects in recent months, including the design of Campus 2 and remodeling of Apple's flagship San Francisco store.