Refurbished iPad Air 2 Models Now Available From Apple Store
Apple today added several iPad Air 2 models to its online store for refurbished products, marking the first time refurbished versions of the iPad Air 2 have been made available for purchase.
Released in October of 2014, the iPad Air 2 features a slimmer body than the original iPad Air, plus a triple-core A8X processor, an 8-megapixel camera Touch ID, and a gapless display with an anti-reflective screen coating.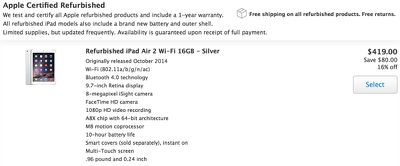 Apple is currently offering several refurbished iPad Air 2 models, ranging from the entry-level 16GB Wi-Fi only iPad Air 2 to the 128GB Wi-Fi + Cellular iPad Air 2. All models are discounted by 15 to 17 percent, dropping prices by $80 to $160. For the entry-level Wi-Fi only 16GB model, the discount lowers the price to $419 from the original $499 price tag.
That price point beats many sale prices from third-party vendors, and as with all of Apple's refurbished products, the iPad Air 2 models come with a full 1-year warranty, a new battery, and a new outer shell.
Apple's refurbished inventory fluctuates on a regular basis based on available supply, so models that are available today may not be available tomorrow. The refurbished iPad Air 2 models can be purchased immediately from the online store.
(Thanks, Phil!)