Apple Raises Prices in Europe and Canada as U.S. Dollar Remains Strong
While the high-end 27-inch iMac with Retina 5K Display was discounted from $2,499 to $2,299 today, Apple has raised the prices on several other products in Europe and Canada as the U.S. dollar continues to remain strong against the euro and other international currencies. The affected countries in the European Union include Germany, France, Ireland, Italy, Netherlands, Portugal, Finland and multiple others.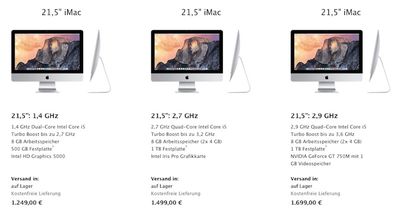 iMac prices increased by between €150 to €300 in Europe per configuration
All non-Retina 21.5-inch and 27-inch iMac models in affected countries are now between 150 to 300 euros more expensive starting today. The base configuration iMac, for example, increased from €1,099 to €1,249, while the high-end 27-inch iMac without Retina display rose from €1,799 to €2,099. Prices may vary slightly between countries due to applicable local taxes and tariffs.
Apple also increased the price of the Mac Pro by between 400 to 600 euros, with the base model going from €2,999 to €3,399 and the high-end configuration now priced at €4,599 up from €3,999. The base model Mac mini increased 50 euros to €569, while the mid-tier and top-tier configurations were bumped up 100 euros to cost €819 and €1,129 respectively. 12-inch MacBook, MacBook Pro and MacBook Air prices have not changed.

Mac Pro prices increased by between $200 to $400 in Canada per configuration
Meanwhile, the price of non-Retina 21.5-inch and 27-inch iMac models increased by $100 to $150 in Canada as conversion rates continue to fluctuate. Similarly, the Mac Pro now costs between $200 to $400 more in Canada depending on the configuration, and Mac mini prices rose by between $50 to $120. The prices of various Mac accessories, including the Magic Mouse and USB-C adapters, also rose in both Europe and Canada.
Apple last raised prices in Europe, Canada, Australia and other regions in early March.