Apple subsidiary FileMaker today announced FileMaker 14, a new version of its database development platform for Mac, iPhone, iPad, Windows-based PCs and the web. FileMaker 14 contains several new features for developers, including a new Script Workspace for faster automation of common business processes, a redesigned FileMaker WebDirect, new app-like Launch Center interface, an enhanced iOS experience and more.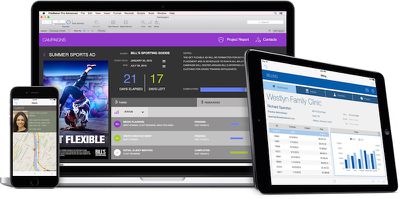 The new Script Workspace for the desktop consolidates the creation, editing and viewing of scripts and calculations into one streamlined interface, with features such as auto-complete, favorites, in-line editing, shortcuts, script step descriptions with in-line help, automated command-lookup and more to help speed up development. The new workspace also has point-and-click simplicity and contextual guidance for non-developers.
A redesigned FileMaker WebDirect and Launch Center further enhance the desktop experience on Mac, Windows and the web:
A redesigned FileMaker WebDirect makes it easy to deliver desktop-style interactivity to mobile browsers on tablets. FileMaker WebDirect now supports FileMaker solutions running on the latest tablets. Business users can deliver a next-generation mobile browser experience. The redesigned toolbar automatically adapts to the screen size of users' browsers on desktops or tablets, with larger tap targets, slide-in menus that dynamically optimize screen real estate, and menus that collapse and expand into logical groups as the screen size changes or the user rotates the device.
A Launch Center brings an app-like interface with big, bold icons (no more dialog boxes and pull-down menus) that allow users to visually organize all solutions at a glance. Users can choose from 29 pre-built icons or design custom icons to give solutions a personalized look. The Launch Center works across the entire FileMaker 14 Platform, providing a consistent experience on Windows and Mac with FileMaker Pro, on iPad and iPhone with FileMaker Go, and in a browser with FileMaker WebDirect.
FileMaker users on iPhone and iPad benefit from an enhanced iOS experience that includes new scripts and an iOS 8-style redesign. Developers can now make solutions full screen, lock in portrait or landscape views using the new set-screen orientation, enable touch keyboards, enable richer text formatting, use new video and audio playback controls and more. FileMaker Go 14 is
free on the App Store
for iPhone and iPad.