Tim Cook Auctions Apple HQ Lunch Meeting, VIP Passes to Apple Keynote for Charity
For the third year in a row, Apple CEO Tim Cook is participating in a charity auction through CharityBuzz, offering whoever bids the most the chance to enjoy lunch with him at Apple's headquarters in Cupertino. This year's auction also includes two VIP passes to an Apple keynote event to watch Apple unveil new products.
Two people can have lunch with Cook, and the experience will last for approximately one hour. Lunch is included in the auction price, but the winning bidder will need to cover travel and accommodations. The exact date of the lunch will be scheduled at a mutually agreed upon time after the auction ends on May 6, 2015.
The auction has an estimated value of $100,000, and bids are currently up to $37,500. This is the third year that Tim Cook has auctioned off an opportunity to spend time with him, offering
a coffee meeting
in 2013 that
sold for $610,000
and
a lunch meeting
in 2014 that
sold for $330,001
.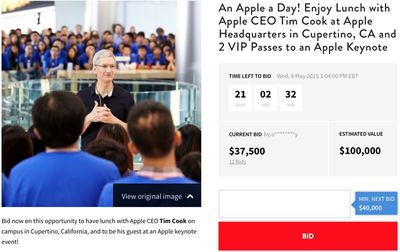 Proceeds from the auction will once again benefit the RFK Center for Justice and Human Rights, a charity that aims to achieve a "just and peaceful world by partnering with human rights leaders, teaching social justice and advancing corporate responsibility."