Some Tattoos Found to Interfere With Apple Watch's Sensors
A growing number of users have turned to social networks claiming that full sleeve tattoos, ones that stretch to cover the wrist, interfere with the Apple Watch's heart rate sensor and skin contact registration. Consequently, some Apple Watch users with tattoos have been unable to receive notifications and are frequently prompted to re-enter their passcode, if one is set, on the wrist-worn device.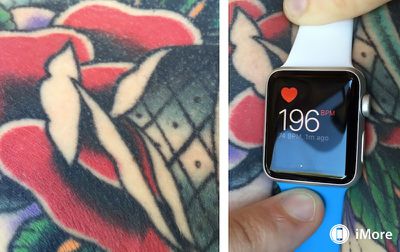 A popular Reddit thread discussing the issue has received nearly 700 upvotes and 300 comments since being posted on Tuesday, and some users have unfortunately already coined the phrase "Tattoogate" to describe the problem. iMore soon followed up with a report confirming the issue, with the Apple Watch displaying inaccurate heart rate readings on the wrists of people with dark-colored tattoos.

"So I thought my shiny new 42mm SS watch had a bad wrist detector sensor," writes Reddit user guinne55fan. "The watch would lock up every time the screen went dark and prompted me for my password. I wouldn't receive notifications. I couldn't figure out why especially since the watch was definitely not losing contact with my skin. also I couldn't find anything online with people experiencing this issue. I was about to give up and call Apple tomorrow when I decided to try holding it against my hand (my left arm is sleeved and where I wear my watch is tattooed as well) and it worked. My hand isn't tattooed and the Watch stayed unlocked. Once I put it back on the area that is tattooed with black ink the watch would automatically lock again."
The severity of problem appears to depend on the color and ink saturation of the tattoo, with darker, solid tattoos causing the most interference with the Apple Watch's sensors. A temporary solution for affected users is to toggle off Wrist Detection in the Apple Watch app under the General menu on the main settings tab, but doing so will disable Apple Pay from being used on the Apple Watch.
iMore
also points out that natural skin pigmentation does not have the same affect on the Apple Watch's sensors, so there is no reason to be worried if you have darker skin. But if you have tattoos, the best advice for now is to try out the Apple Watch yourself and rest assured that the device has a 14-day return policy. Apple has not provided comment on the matter, but we'll keep you posted if we hear anything.