Apple Watch Tips and Hidden Features: Handoff, AirPlay, and More
The Apple Watch is a brand new product platform for Apple, offering a significantly different experience compared to Apple's already established platforms, iOS and Mac OS. As the device is getting onto more and more wrists over the coming days, weeks and months, we've collected a bunch of helpful tips to help users acclimating to Apple's brand new platform in this video.
We've also highlighted some of the tips from the video, below.
Fast switching between apps - If you need to bounce between two apps, or one app and your watch face, it can become fairly cumbersome and take some time. Instead, it's easier and quicker to simply fast switch between apps by double tapping the Digital Crown. Double tapping a second time goes back to the last thing you were doing. This way, you can spend some time on the watch face, quickly zoom over to the Music app to select a new song, and then double tap again to go back to the watch face.
Use Siri to launch apps - The app icons on Apple Watch can be fairly small, and their tiny touch targets can make it difficult to accurately choose which app you want to launch. An easier way to launch an app is to use Siri, which can be launched by either saying "Hey Siri" or holding down the Digital Crown. Once that's done, a user just has to say "launch" or "open" followed by the name of the app.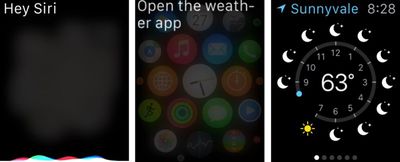 Handoff Any Apple Watch Notification Back to the iPhone - It was already known that the Apple Watch would be able to handoff app activities from the Watch to the iPhone, but it can also be used to handoff any push notification back to your iPhone. Users can go back through the Apple Watch notifications they missed by swiping down on the watch face and hand those off at a later time. The original iPhone app doesn't even have to be built to support it.


AirPlay Controls - Using Force Touch in various apps on the Apple Watch can yield new ways to interact. One of the more useful (yet hidden) ways Force Touch changes an app is within the Music app, where Force Touching while playing a song, allows you to choose your iPhone's Airplay target for your music. This Airplay option isn't available from any other screen in the Music app except for the song-playing screen.
You can also play music straight off your Apple Watch. Choosing "Source" from the same menu, lets you play music straight off your Apple Watch to any Bluetooth target.


Battery and Control Center Glances - On the watch face, swiping up reveals your Glances, which are quick looks at your various apps. They let you do certain things without having to open your app, and there are some Glances from Apple that can make using the Apple Watch a lot easier. The Battery glance allows you to check your battery percentage and manually start Power Reserve mode, while the Control Center glance allows you to turn on Airplane mode, Do Not Disturb, mute sound and ping a sound on your iPhone if you can't find it.


Taking a Screenshot - One of the social phenomena emerging from the first week of the Apple Watch is people showing off how they've customized their watch faces and how they've arranged their home screen. Taking a screenshot is the best way to show off how personal users have made Apple's most personal device, and to do so all one has to do is click the Digital Crown and the button underneath that at the same time.
You can watch the above video for even more tips and tricks, and if you've just got your Apple Watch and need help setting it up we've got a guide to help you get it up and running. Additionally, you can head over to our forums, where new Apple Watch users are discussing Apple's newest device and sharing their home screens and watch face customizations.