Retina MacBook Teardown Reveals iPad-Like Battery Connector, Details Force Touch Trackpad
After Apple revealed the new 12-inch Retina MacBook at its March "Spring Forward" event, the performance and speed of the sleek-but-slightly-underpowered machine came into question by many. Unlike the MacBook Air and MacBook Pro, the Retina MacBook comes with an Intel Core M Processor and provides only a single USB-C port to double as an accessory and charging port.
Today, iFixit answered some of those early questions in its teardown of the new MacBook, revealing a few unsurprising details of the base model MacBook, which includes a 1.1GHz processor, 12-inch Retina display, 256GB of flash storage and Intel HD Graphics 5300. What the company did find that was surprising was a battery connector hidden under the logic board, just one of a few internal comparisons to Apple's iPad line made with the new MacBook.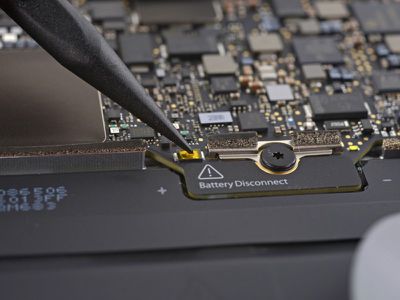 Next, iFixit looked at Apple's new method of tapered battery cells, finding the glued-down cells particularly challenging to remove and replace. Finally emerging from the MacBook's innards, the company discovered a 7.55 V, 39.71 Wh, and 5263 mAh battery, what iFixit calls "just a hair more" powerful than this year's 5100 mAh 11-inch MacBook Air.
Lastly the teardown focuses on the MacBook's much-touted Force Touch trackpad, which iFixit calls a "slimmer, daintier version" of the 13-inch MacBook Pro's trackpad. Delving further, the repair website found a Broadcom BCM5976 touchscreen controller, ST Microelectronics 32F103 ARM Cortex-M based microcontroller, and Linear Technology LT3954 LED Converter with Internal PWM Generator as the main trio of chips running the new trackpad.


All of iFixit's breakdown resulted in a repairability score of 1 out of 10 for the new MacBook, a 10 being easiest to repair. The company points to Apple's proprietary pentalobe screws surrounding the outside case, the tricky-to-remove tapered batteries, and the processor, RAM, and flash memory being soldered to the double-sided logic board as main reasons for the score.
iFixit's full teardown is worth a read, showing intricate details of the Retina MacBook's double-sided logic board and new USB-C connection port. The 12-inch Retina MacBook went on sale on Apple's online store last Friday, April 10, along with pre-orders of the Apple Watch.
Although the base 1.1GHz version of the MacBook appeared to many as an underpowered machine, recent benchmarks of the 1.2GHz model showcased decent speed and power boosts over its entry-level counterpart. No doubt more will be known when consumers begin receiving their MacBooks in the mail, especially regarding the 1.3GHz model, currently at a mid-May dispatch date due to its made-to-order upgrade parts.