Synology, known for its Network Attached Storage (NAS) solutions, today announced the addition of two new devices to its existing DiskStation and RackStation product lineup: the DiskStation DS1515 and the RackStation RS815.
The DiskStation DS1515 is the first 5-bay solution in Synology's Value series lineup that offers a quad-core CPU. Along with a 1.4GHz AL-314 quad-core CPU from Annapurna Labs, it has 2GB of RAM and four Gigabit LAN ports with link aggregation support. The DS1515 is able to offer read/write speeds of up to 403.7MB/s and 421.8MB/s, respectively, using a RAID 5 configuration with Windows. With its hardware encryption engine, it offers encrypted data transmission speeds of 296.54MB/s (read) and 150.04 MB/s (write).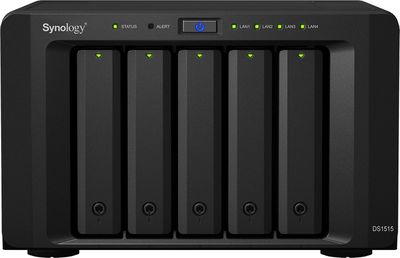 Like all of Synology's products, the DS1515 runs Synology's DiskStation Manager software, and it's scalable up to 15 drives with two Synology DX513 expansion units for up to 90TB of total storage 30TB maximum without the expansion units). Synology's DS1515 is designed to be energy efficient, with hard drive hibernation and two 80 x 80 mm fans to keep it running cool, and it has a noise dampening design that lets it run quieter than PCs.
"The DS1515 and RS815 offer excellent value for growing companies that need easy scalability, with on-the-fly plug and play expansions," said Synology Product Marketing Manager Jason Bonoan. "Plus, work groups can use these NAS with Cloud Station and sync their files when they are on the go."
Synology's RackStation RS815 is a 4-bay rackmount NAS that's designed to be compact and able to fit easily in smaller server rooms. Aimed at businesses that need to store large amounts of data, the RackStation RS815 is 12-inches deep and smaller than its predecessor.

Synology RackStation RS815 is a compact and scalable 4-bay rackmount NAS, which is designed to help businesses effectively store, protect and share data. In terms of size, RS815 is nearly half the depth compared to its predecessor. Running on Synology's award-winning DiskStation Manager, RS815 enjoys rich features and stability in situations with limited space and budget.
The RS815 includes a dual-core CPU and 1GB of RAM. It's able to deliver speeds of up to 111.5MB/s (read) and 108.7MB/s (write) in a RAID 5 configuration. It's got dual LAN failover support to keep it connected to the network at all times, plus two USB 3.0 ports and support for an optional storage expansion unit (up to 48TB of space). As with the DS1515, the RS815 runs the DiskStation Manager Software.
The Synology DS1515 and RS815 are available for purchase today for $649.99 and $599.99, respectively.