Apple Launches New Final Cut Pro X, Motion, and Compressor Updates
Apple today sent out a press release announcing an update to its professional video editing software, Final Cut Pro X, along with updates to companion apps Motion and Compressor. The updates bring new features for motion graphics and enhancements to speed up video editing, packaging, and delivery.
As described by Apple, Final Cut Pro's 10.2 update marks the debut of easy-to-use tools for the creation of 3D titles, with a variety of templates that include built-in backgrounds and animations. Text styles can customize the look of titles with different materials and lighting, and it's possible to convert 2D to 3D titles and see changes in real time.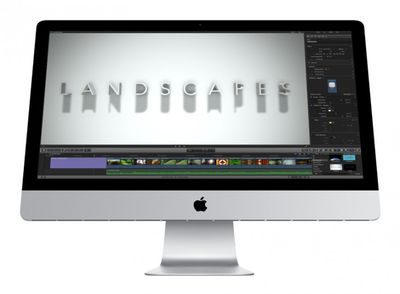 Today's update also lets editors view up to four video scopes at the same time for better precision when color grading, and there are now improved Shape masks that can be applied to any effect and saved as a preset. Finally, the update includes support for more video formats and makes it faster to work with RED RAW files.
Motion 5.2 offers additional options for 3D titles, bringing tools for the creation of dynamic titles with lights and cameras, while Compressor 4.2 makes it easier to prepare movies for sale on the iTunes Store.
"From Hollywood blockbuster directors to first time movie makers, Final Cut Pro X is changing the way we edit movies today," said Philip Schiller, Apple's senior vice president of Worldwide Marketing. "The updated Final Cut Pro X, Motion and Compressor make it even easier to edit, title and package everything from short videos to feature-length films."

Apple's press release includes details from Glenn Ficarra and John Requa, who co-directed the Will Smith film Focus and used Final Cut Pro X to edit the video. The duo's work with the software was previously featured by Apple on its Final Cut Pro X feature page.
"We loved using Final Cut Pro X to edit Focus," said Glenn Ficarra and John Requa, co-directors of the 2015 feature film, Focus. "We created the final theatrical titles for the movie right in Final Cut Pro, and the new 3D titling and effects features will let us take in-app graphics even further. We're using the new Final Cut Pro on our next feature film."
Several sites have been able to get hands-on access to the new software updates ahead of their launch, and have shared details on the new tools included in the update. Fcp.co has a complete rundown on all the new features, along with screenshots, as does The Next Web.
All of today's updates are free for existing Final Cut Pro, Compressor, and Motion users.
Final Cut Pro can be downloaded from the Mac App Store for $299.99. [Direct Link]
Compressor can be downloaded from the Mac App Store for $49.99. [Direct Link]
Motion can be downloaded from the Mac App Store for $49.99. [Direct Link]