Apple Showcases Final Cut Pro X Usage in Production of Hollywood Film 'Focus'
Just a few days before the release of the Hollywood romantic comedy film Focus, starring Will Smith and Margot Robbie, Apple has provided a behind-the-scenes look at how Final Cut Pro X was used to produce the movie. The feature page provides an in-depth profile of how Final Cut Pro X was used for editing, screen-ready effects and post-production.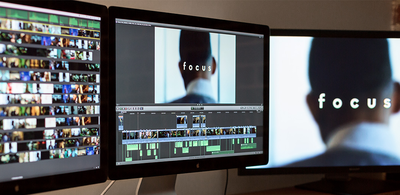 Focus directors John Requa and Glenn Ficarra opted to use Apple's professional video editing software because they found it provided a fast and straightforward workflow. The software gave the directors fine-tuned control over all aspects of the film and provided the flexibility to easily move between editing on a Mac Pro and working with a MacBook Pro on location.
After researching several workflows, Requa and Ficarra decided to cut their major studio feature entirely in Final Cut Pro X. The results were even better than they'd expected. The movie came in on time and under budget, and it played and looked just as they'd envisioned it. "We got exactly the film we set out to make," says Requa. "What I love about Final Cut Pro X is that it allowed me to be involved with, and in control of, every aspect of making our film."
Final Cut Pro X was highly criticized by some professional video editors when it was released in 2011, but the directors of Focus told USA Today that they value how the software is easier to use and resembles the look of iMovie. These comments come amid criticism that Apple is dumbing down certain areas of OS X, including the removal of Aperture in favor of the all-new Photos for Mac app.
"Many editors called the new FCPX 'iMovie Lite,' when it was released, and not ready for the big leagues, but Ficarra says he likes that FCPX is easier to use, and that it's look and feel is akin to iMovie. 'We have a whole generation of kids learning on iMovie,' he says. 'They'll be familiar with this tool when they get into the real world.'"


The film crew used Mac Pro-equipped on-set mobile post systems from a cutting-edge Los Angeles-based post-production company and used metadata markers to identify the best shots taken each day. Final Cut Pro X enabled this metadata to be searchable and handled full-resolution ProRes 4444 files with ease.
Ficarra believes that the metadata advantage gave them unprecedented control over their story line. "I was able to say, 'I need Will's side in this take,'" he says. "And because even his improvisations were specially tagged, we were able to filter and come out with it. The upshot was just infinite searchability. We could change direction so fast and do multiple iterations. Sometimes while we were editing we felt as if we were actually rewriting the movie."
The full-length feature page on Apple's website goes into further details about how Final Cut Pro X was used throughout all stages of the film's production. The in-depth page also outlines other Apple products and third-party hardware used to make the film a reality, including the Mac Pro, iMac, MacBook Pro, iPad, iPhone, Logic Pro X, Motion 5, Xsan, Apogee Quartet, Quantel Pablo Rio system and more.
Final Cut Pro X is $299.99 on the Mac App Store [Direct Link].