Apple Watch Try-On Appointments Begin in Australia, Prospective Buyers Lining Up
It's just after 9:00 a.m. on Friday, April 10, which means Apple Stores in Australia have opened up for the day. Prospective Apple Watch buyers in the country are already lining up outside of stores in the hopes of getting a chance to try on the Apple Watch in person.
Several Australians on Twitter and Instagram have posted images of people lining up outside of Apple Stores, and the first people waiting in line have already been allowed into the store to check out the Apple Watch display units. Several people are also live streaming their experiences with the Apple Watch on Periscope.
Apple retail stores in Australia are already outfitted with Apple Watch tables that have the Apple Watch on display alongside an iPad, and there are also tables that have the Apple Watch on display under glass, where the devices can be tried on.
Customers who are doing Apple Watch try-ons are walk-in customers who waited in line to see the device, as try-on appointments cannot yet be scheduled online. MacRumors has learned that try-on appointments will be available online in Australia later today, possibly after pre-orders begin.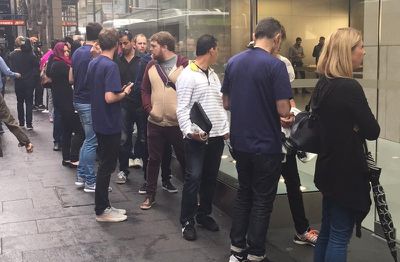 People are also beginning to line up in other locations around the world where Apple retail stores have not opened, and as can be seen in this image from Japan, stores that will be opening soon are already equipped with try on tables and Apple Watch display units.

Apple Store in Japan equipped with Apple Watch displays, courtesy of Hideki Ito
Apple Watch try-on appointments in the United States will not begin until stores open in the morning on Friday, April 10, but based on the lines and the crowds in other countries, it's likely most Apple Stores will be very busy tomorrow. Apple Watch pre-orders will be available beginning April 10 at 12:01 AM Pacific Time.