Apple Watch Sapphire Crystal Display Cover Faces Drill in Scratch Test
iPhone service and repair website iPhonefixed earlier this week got its hands on a sapphire crystal Apple Watch display cover and decided to put the 38mm part through a scratch resistance test to weigh Apple's claims of a completely scratch-resistant sapphire display.
The website ran the display cover through its test, rubbing it against a stone wall, scratching it with a coin, key, and abrasive paper, and finishing off with tapping the screen with a hammer and drilling it with a power drill. Following the tests, iPhonefixed found Apple's promise of a scratch-resistant display to be entirely accurate, with not a single scratch or scuff on the screen even after all of the site's attempts at leaving a mark.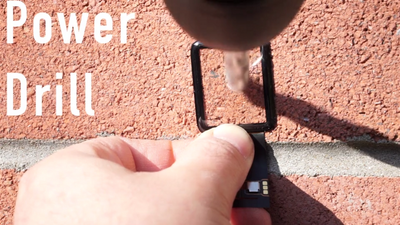 Apple's promotion of the sapphire crystal display cover marketed it as a material "ideal for protecting the Retina Display" on the Apple Watch, due to it being one of the hardest transparent materials on the planet next to actual diamonds.
Though iPhonefixed was not able to test the Apple Watch Sport's Ion-X glass display cover, with the lower-end model's "aluminosilicate glass that's especially resistant to scratches and impact," it too is likely to hold up well to abuse.
Check out the full Apple Watch sapphire display cover scratch test video by iPhonefixed right here.