Retail Packaging for Apple Watch and Bands Potentially Revealed
A series of photos have surfaced on social media today that provide a first look at what could be the retail packaging for the Apple Watch and individual bands. Instagram user Jeremy Gan posted the photos to his profile, which he has since switched to private, this afternoon. The photos appear to show a 42mm stainless steel Apple Watch with Milanese Loop propped on a stand within its official packaging, alongside a brown leather band in a separate box.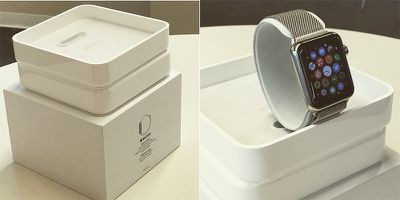 It appears that the pictures were taken during the day in Daily Mail's offices at 51 Astor Place in New York City, and it's plausible to think the publication may have had the device on hand. Nevertheless, we cannot guarantee the veracity of these photos, and it is entirely possible that the retail packaging is not official. A number of fake Apple Watches have already hit the streets, and this could very well be fake packaging to go along with the knockoff models.


The long, narrow box for the Apple Watch band in particular appears mostly consistent with a stock image that appeared on Apple's careers page last month, which at the time was speculated to be retail packaging for bands. The packaging in Apple's picture appears to be plastic, however, with a slightly tapered appearance, which is slightly different than the box pictured above. The photos should be treated with a proverbial grain of salt until if and when their authenticity can be confirmed.
Update: Gan has made both his Instagram and Twitter accounts private.