'Wunderlist' for Apple Watch Brings To-Do Lists, Agendas and Reminders to Your Wrist
Wunderlist has provided a closer look at its Apple Watch companion app, which appeared on the App Store on Thursday ahead of the device's launch next month. The app is designed with a unique Home View that provides access to your most important items first, with four buttons that display a bird's eye view of your to-do lists, agenda and reminders on your wrist.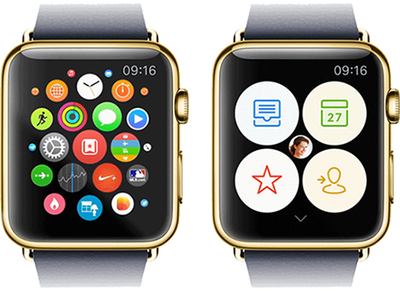 Wunderlist for Apple Watch delivers a hand-free experience in situations where you might normally use your iPhone, such as while shopping at a supermarket and checking items off your grocery list, or when using smart voice input to add to-dos for an upcoming meeting. The combination of Glances and real-time notifications ensure that you will stay up to date with important things during your day, be it during your morning commute, at the office or at home.
"As you move through the day, you won't even have to open Wunderlist on your Watch to get stuff done. Just take a look at our Glance during breakfast to review your most important to-dos for the day. Thanks to Wunderlist's real-time notifications, a subtle tap on your wrist will let you know what your colleagues are working on during your morning commute, and remind you to pick up the milk on your way home from work."
Wunderlist for Apple Watch features custom animations for interacting with the app, and its developers have carefully considered which font sizes, layouts and interactions would work best with limited screen real estate. The result is a design that was inspired by Wunderlist's brand-new colorful sidebar icons, with the majority of the user interface consisting of white text on a black background.


Ultimately, the developers behind Wunderlist for Apple Watch wanted to create software that gets out of your way, all the while providing multipurpose functionality for managing your day-to-day life. Apple Watch, and by extension the wrist, provides a more natural setting for to-do apps such as Wunderlist and Todoist, so it will be interesting to see how developers build upon these apps in the future.
Wunderlist [Direct Link] is free on the App Store for iPhone, iPad and Apple Watch.