Third-Party Mac Developers Begin Embracing Force Touch, Led by 'Inklet'
Following its March 9 media event where it introduced "Force Touch" trackpad technology for the new 13-inch Retina MacBook Pro and upcoming 12-inch MacBook, Apple opened up the feature to third-party developers by delivering developer APIs starting with the third beta of OS X 10.10.3. The APIs will allow developers to support the ability of Force Touch trackpads to sense multiple levels of pressure and perform different actions depending on how hard the trackpad is being pressed.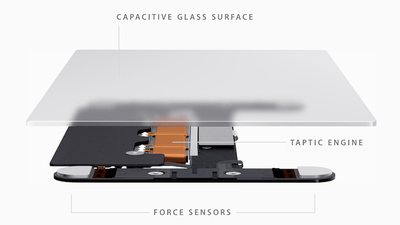 Apple has already taken steps to build Force Touch support into its own apps, as outlined in a support document. At the simplest level, the new Force Touch trackpads support a new "Force click" functionality, which allows a user to click on an item and then press a bit harder to activate a secondary function such as pulling up Dictionary or Wikipedia entires on selected text in Mail or Safari, a map preview when selecting an address, or Quick Look previews of files when selecting icons.
Beyond the single-level Force click, the new Force Touch trackpad also supports more advanced features through sensing multiple levels of pressure, allowing users to accelerate zooming in and out of maps or vary the speed of fast forward and rewind in QuickTime and iMovie. iMovie also supports "bumpy pixels" in which the trackpad gives subtle vibrational feedback during the editing process to let the user know when the end of a dragged clip has been reached or when cropped clips are in proper alignment.
While Force Touch is currently limited to the new 13-inch Retina MacBook Pro, the feature looks set to expand throughout Apple's product lineups, with the company's other notebooks gaining the technology as update cycles allow and the Apple Watch supporting it as a key interface mechanism at launch. Apple is also rumored to be bringing Force Touch to the iPhone later this year.
On the Mac side, Ten One Design today announced an update to Inklet, its popular third-party drawing software, that will bring "enhanced pressure control" to MacBooks with the new Force Touch trackpad. The company believes it is the first Mac developer to launch support for Force Touch.
Through Inklet's software, users have been able to draw and edit images within applications like Pixelmator and Photoshop for a while, by determining "stylus pressure" to differentiate between when to use thin and thick lines. Ten One Design notes that the introduction of the Force Touch trackpad makes its app not only more precise in designating pressure sensitivities, but more reliable as well.

We think Inklet is the first 3rd party application to support the Apple's new Force Touch trackpads. This means you'll have amazing pressure control on newer machines, and in a pinch you can even use your finger.

Having a trackpad capable of measuring force is a big deal. Even though Inklet has always been capable of determining stylus pressure, this update makes measuring pressure simpler and more reliable. Kudos to the team at Apple who designed this precise and useful instrument.
Beyond Force Touch support, Inklet's update also bring "improved pressure response" to MacBooks with the traditional multi-touch trackpad, along with the usual minor bug fixes. The company says Inklet will prompt users to update the app "sometime within the next three days", although users wanting to check out the new features sooner can hasten the process with the "Check for Updates" prompt in the Inklet menu.
Those yet to download the software can do so for $24.95 for the base app, or $34.90 for the app bundled with the company's Pogo stylus, from Inklet's official website.