The record-breaking Kickstarter for the new Pebble Time smartwatch gained some momentum off of Apple's "Spring Forward" event last week, reported TechCrunch over the weekend.
The crowd-funding campaign brought in on average $6,000 per hour the Sunday before the big Apple Watch event, a statistic which rose to $10,000 per hour as the event happened on Monday, March 9 and leveled off at $16,000 per hour on March 10.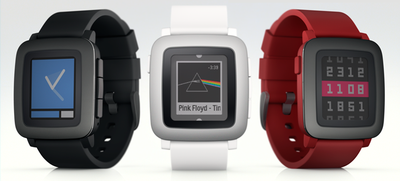 Speaking on the matter, Pebble CEO and founder Eric Migicovsky said the Apple Watch event doubled the rate of contribution to the Pebble Time Kickstarter, but as TechCrunch pointed out, it was closer to nearly tripling the campaign's hourly rate.
Apple's entry into the smartwatch market no doubt sparked interest in users interested in a wearable device, but perhaps looking for a cheaper alternative, with the ability to connect with Android phones or have a longer-lasting battery life. That train of thought appears to be unsurprising to Migicovsky and the Pebble team, who expected a boost coming off of the Apple Watch event.

"Apple's event this week caused a nice spike in support for us, as anticipated," Migicovsky told TechCrunch. "When the biggest company in the world enters your market, that's the kind of validation you can only dream of. Ultimately the more awareness for smartwatches, and the more choice for consumers, the better for everyone. 2015 is going to be an extraordinarily exciting year."
The Pebble Time Kickstarter began on February 24, and reached its goal of $500,000 in just under twenty minutes, allowing the company to introduce a more formal option in the Pebble Time Steel one week later. The campaign currently has about 72,000 backers with just over $18.5 million pledged and eleven days to go until its completion.