'Activity' Companion App for Apple Watch Found Hidden in iOS 8.2
iOS developer Hamza Sood has tweeted a series of screenshots from iOS 8.2 that provide a closer look at the upcoming "Activity" companion app for Apple Watch previewed on the Apple Watch microsite. Activity does not show up on iPhone until an Apple Watch is paired with the device, at which point the app provides a comprehensive overview of your daily activity and workout history.
The main History tab allows you to view your Activity rings on a calendar to track how much walking, standing and exercise you have done, sorted over the course of a day, month or year. A second Achievements tab displays a grid of achievements that are unlocked for reaching personal bests or milestones. The screenshots reveal there are at least a dozen achievements to unlock.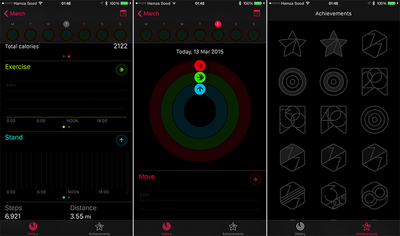 Apple is pushing the health and fitness capabilities of Apple Watch as one of three main selling points for the wrist-worn device, the others being communication and timekeeping. The upcoming Activity app is an important feature in that regard, and looks polished in time for the Apple Watch's release next month. Apple will begin taking pre-orders for the Apple Watch on April 10 ahead of an April 24 launch.