Benchmarks Confirm New MacBook Air Brings Decent Speed Improvements, MacBook Pro Less So
Earlier this week, we shared some Geekbench benchmarks for the Broadwell processors in the new 13-inch Retina MacBook Pro and the new 13-inch MacBook Air, which pointed towards speeds that were comparable to mid-2014 models.
At the time, we noted the results might shift once more data came in and the machines got past their initial housekeeping tasks, and Primate Labs' John Poole has now shared additional benchmarks for all stock versions of the new machines. The new data indicate that performance improvements may indeed be somewhat better than initially thought, though still relatively moderate.
On the new MacBook Air, both the default 1.6 GHz Core i5 chip and the 2.2 GHz Core i7 chip available as an upgrade performed somewhat better than their predecessors on the 32-bit single-core test, but there were more significant gains in the multi-core test for the higher-end processors.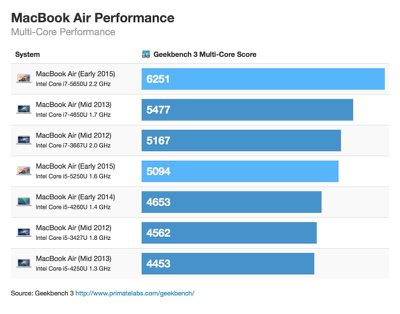 According to the new averages, single-core performance increased 6 percent from Haswell to Broadwell. Multi-core performance on the i5 chip increased 7 percent, while multi-core performance for the i7 model increased 14 percent.
Due to the more meaningful jump in multi-core performance between the 2.2GHz Core i7 chip and the 1.6GHz Core i5 chip, Poole recommends that MacBook Air buyers go for the processor upgrade.
If you're thinking of buying the new MacBook Air I would strongly recommend the i7 processor. It has 20% faster single-core performance and 25% faster multi-core performance for only a 15% increase in price.
Benchmarks of the new 13-inch MacBook Pro showed slight gains over previous-generation models, but the differences were not quite as pronounced as on the MacBook Air. Single-core performance increased between 3 percent and 7 percent from Haswell to Broadwell, depending on the model, while multi-core performance increased 3 percent to 6 percent.

I have no recommendations regarding the processor for the new MacBook Pro. The performance differences and the price differences between the processors are roughly equivalent.
Intel operates on a "Tick-Tock" chip manufacturing model. Tock upgrades represent a new microarchitecture, while tick upgrades like Broadwell are generally an improvement on tock architecture, leading to improvements in efficiency. As a tick upgrade, the minor speed improvements Broadwell brings are no surprise. Intel's last tock upgrade was Haswell, and its next tock upgrade will be Skylake, coming later this year.
Apple's new 13-inch Retina MacBook Pro and new MacBook Air models are available immediately from the online Apple Store and from Apple's retail stores.