Announced in conjunction with the new line of MacBooks revealed at today's "Spring Forward" event in San Francisco, the USB-C Digital AV Multiport Adaptor will allow users a dock-like experience with included HDMI, USB 3.1, and USB-C inputs located on the device.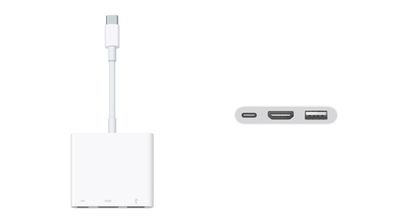 Mainly featured will be the ability to mirror a MacBook's display onto an HDMI-connected screen. The adapter will allow users to play a wide range of video content, including movies and captured video, at up to 1080p HD.

This adapter allows you to mirror your MacBook display to your HDMI-enabled TV or display in up to 1080p HD. It also outputs video content like movies and captured video. Simply connect the adapter to the USB-C port on your MacBook and then to your TV or projector via an HDMI cable (sold separately).
Apple also noted that the other two inputs on the device, USB 3.1 and USB-C, will be able to be used simultaneously. Ultimately aimed at providing a bit more accessibility to the lone USB-C port located on the new MacBook line, the Multiport Adapter will allow users to mirror their display, charge an iPhone, and make sure their MacBook doesn't run out of power at the same time.
A similar device, the USB-C VGA Multiport Adapter, will allow all the same features, but let users connect their MacBook to a VGA-enabled display, with all of the expected USB 3.1 and USB-C features as in the HDMI model.
Though currently unavailable, those interested will be able to pick up the Multiport Adapter from Apple's online store for $79.00.