Apple Watch Battery Life: 18 Hours Mixed Usage, Up to 72 Hours on Power Reserve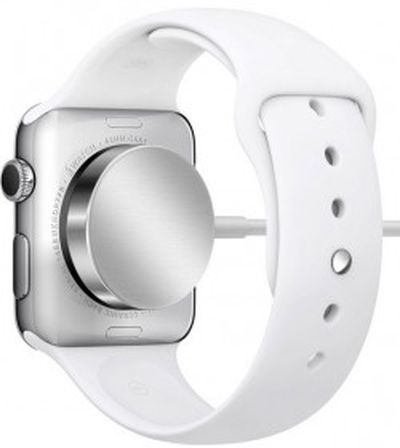 Apple has outlined specific information about Apple Watch battery life on its website, claiming that the wrist-worn device gets all-day battery life of 18 hours on a single charge based on mixed usage, and up to 72 hours in Power Reserve mode. The battery testing was conducted in March using a preproduction Apple Watch paired with an iPhone running preproduction software.
Apple claims that the Apple Watch has battery life of up to 3 hours for talk time, 6.5 hours for audio playback over Bluetooth, up to 7 hours during a workout session with the heart rate sensor on and up to 48 hours for timekeeping. Apple Watch charging times are listed as about 1.5 hours from 0% to 80% and 2.5 hours from 0% to 100% using the included MagSafe inductive charger.
Apple's claim of all-day battery life is based on using the Apple Watch for 90 time checks, 90 notifications, 45 minutes of app use, and a 30-minute workout with music playback via Bluetooth over the course of 18 hours. Apple used a 38mm Apple Watch for testing and claims that the 42mm will generally experience longer battery life. Additional magnetic chargers are available on Apple's bands and accessories page, costing $29 for a 1-meter cable and $39 for a 2-meter cable.