Apple Showcases 'Shot on iPhone 6' World Photo Gallery on Homepage [Updated]
Apple has refreshed its homepage to showcase a gallery of photos taken with iPhone 6 across the world, unsurprisingly coinciding with today's announcements of the Samsung Galaxy S6 and HTC One M9 at Mobile World Congress in Barcelona. The gallery shows photos taken by iPhone 6 users in several countries, including the United States, Canada, Japan, Iceland, South Korea, China, Scotland, Indonesia, Thailand and New Zealand.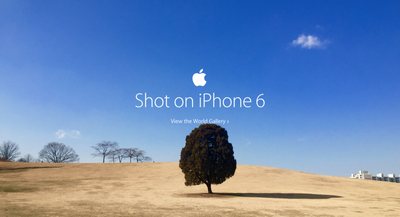 Some of the photos have been filtered, enhanced or shared with apps such as Instagram, Snapseed, VSCO Cam, Mextures, Filterstorm Neue, Camera+ and Adobe Photoshop Express. "People take incredible photos and videos on iPhone 6 every day," writes Apple. "And here are some of our favorites. Explore the gallery, learn a few tips, and see what's possible with the world's most popular camera."
Update 2:00 PM PT:
Rene Ritchie at
iMore
reports that this is just the beginning of an iPhone 6 photography campaign involving 77 photographers, 70 cities and 24 countries. Apple will be featuring photos taken with an iPhone 6 in print media, transit posters and billboards across the world.
"From Sydney to Beijing to San Francisco to New York City to London and more, Apple will feature the iPhone photographers and their work on posters at transit stops and stations and in newspaper ads and on billboards. Not the iPhone 6. Not its camera. Not product shots. But shots taken by the product — by the iPhone 6 camera."